30-10-2017
An early start

You might remember that three days ago Miss M. told me to wear the cockcage to work? It went so well that Miss M. rewarded me with a harsh caning and decided that I should wear the cockcage during the night.

I was rather excited about going to sleep while my cock was locked up but in the morning I woke up extremely early. My cock was struggling to get big and hard but was confined within the narrow steelcage!

It didn't´t hurt as Miss M. had hoped for… instead the pressure caused by the hard steel felt absolutely wonderful making me even more horny! It was SO FRUSTRATING not being able to make love to Miss M. or even touch my cock.
She sat on my face and made me give her three orgasms which only made me even more horny and frustrated!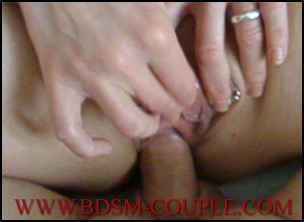 Miss M. unlocked my cock when we got out of bed and allowed me to stay unlocked until this morning.
As usual I woke up with a hard on and Miss M. told me to fuck her and fill her pussy with cum. So I did and I loved it! Little did I know what was to come….
A while back Miss M. had told me about her plans for transforming me into her chastity slave:
The rest of the year she would let me
get used to the cockcage
by sloooowly increasing the periods of time I should wear it. After I had cum inside her pussy this morning she informed me that she had changed her mind….!
Since wearing the cockcage was going so well already my new life as a locked chastity slave was to start
immediately
. She send me of to shower and then she locked up my cock! I must admit I was a little chocked!!!
A few weeks back she asked our followers on Twitter how long she should lock up my cock.
They voted for two weeks
. Miss M. was a bit disappointed about the result since she had hoped for three months or more. But she is going to indulge our followers and make me wear the cockcage 24/7 for two weeks.
For a start….
And where does this leave me. Well….. I had looked forward to having about two more months of masturbating and fucking before things got serious. But Miss M. has made her decision and that part of my life seems to be over.
Watch full videos and all photos on Miss M.'s
LoverFans
:-)
slave p.


Don't forget to follow us:



LoverFans

Pornhub

Twitter

Tumblr
Instagram