28-10-2017
Chastity time begins!


The cock cage for my slave finally arrived two days ago! OOOOH… YES!
It is absolutely beautiful and since it is made of steel it is HEAVY: it weighs 200 grams.

As you may remember I wrote about gradually getting my slave used to wear the cock cage and his training has already begun.


For safe keeping I wear the key in a silver necklace my sweet slave gave me.
The first evening I told him to wear it for a few hours and he was almost as excited about it as I was!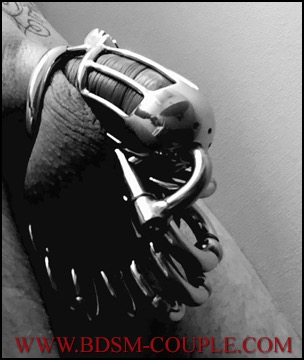 It made his pants bulge a little but I may only have noticed because I knew what he was wearing. It did not cause any pain or discomfort and driving the car wasn't a problem.
The second day I told him to wear it to work and gave him a key he could use in case of emergency. Everything went fine.
His colleagues didn't´t notice anything and he was able to concentrate about his work.
The only thing he wasn´t too happy about was having to sit down while peeing and not being able to play with his cock as he was used to.
Well …. It really is MY cock … I DON'T want him touching it …. and I don't mind that he has to sit down while peeing.
So in my opinion everything is fine!
My considerate slave sent me this wonderful photo which made me so horny I simply had to masturbate.
That day he wore it for ten hours and as a reward I gave him a wonderful caning. 100 strokes on each butt cheek and this morning his butt was red and dark purple.
I completely forgot he has an appointment for laser hair removal next week and I can only guess what the lady at the clinic might think when she sees his butt. Oh dear…. silly me!
Today I didn't´t allow him to wear the cock cage during the day but he is in for a special treat!
He is going wear it while sleeping and I am so excited about what will happen when he wakes up.
He usually has quite an erection in the morning and I suspect the cock cage will make it rather painful…. I hope I am right!
I have made a short video of my slave getting locked up for the night. Please notice the shackle going through his Prince Albert piercing making it impossible for him to remove the cock cage. In other words
I am now 100 % in control and I decide for how long he´ll stay locked up!


Watch the full video on my
LoverFans
:-)
Miss M.


Don't forget to follow us:


LoverFans

Pornhub

Twitter
Tumblr
Instagram