MY SLAVE'S PIERCINGS AND TATTOOS


I get a lot of questions about my slave's piercings so I have decided to show you in detail how his genitals are decorated.
This is how my slave's private parts has looked since 14. Feberuary (Valentine's Day) 2020:
My slave now has a total of 12 piercings.
10 in his scrotum and 2 in his cock.
The custom made Cock Cage in the photo has been designed and built especially for slave p. You can read more about the special and rather extreme Cock Cage right
here
!
Of course my slave hasn't always had a lot of piercings and over time the number (and
size
!) of his jewelry has increased steadily.
If you scroll down and keep your eyes to the right you can take a stroll down Memory Lane and see how the decoration of his private parts has evolved over time.
There is
a lot
of hard, cold steel around and through the most sensitive part of my slave's body. I absolutely love it! - and I love to watch him get pierced….
The feeling I get when I allow someone else to push a thick needle through his genitals and attach yet another ring can best be described as intoxicating and arousing!
And then there's the ink. At the moment he has four tattoos - the
latest was added in August 2020
. And was the date he was locked in chastity for the very first time (26-10-2017).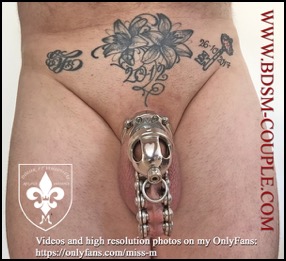 From the left is a symbol of our love. How to decipher is my little secret.

In the center are two flowers symbolizing my slave and myself. 2012 is the year we began experimenting with power play and BDSM.

And finally to the right is a key with the first letter of my name in red ink and the date he was locked in chastity for the very first time. The key symbolizes that he is locked by me and that I hold the key to his cock and balls!

Am I done decorating him? Well…. I think might stop piercing his genitals…. but I might still be adding some mort ink!

Miss M.


Don't forget to follow us:


OnlyFans



Pornhub



Twitter



Tumblr



Instagram