06-01-2018
Double anal fisting!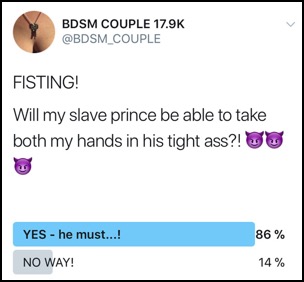 I asked our followers on twitter if my slave prince would be able to take both my fists up the ass, and I must say they had a lot of confidence in my slave prince's ability as an
Anal Acrobat
.
105 cast their vote and 86 % voted YES! I have beautiful small hands… but I must say that I'm flattered so many of you believed in him.
Especially since he's been very busy at work the last couple of months and has had no time for stretching.
While I relaxed with a delicious lunch in the kitchen my slave prince was doing a thorough warm up using a lot of lube and increasingly larger dildos. By the time I had finished eating and was ready for some serious fisting action - so was my slave! We had read that Crisco really isn't made for eating but for fisting, and after this session I believe the rumor to be true - it worked perfectly!
My slave's warm up had opened him up and my hand slipped right inside…. and it didn't take long before my other hand was all the way inside as well.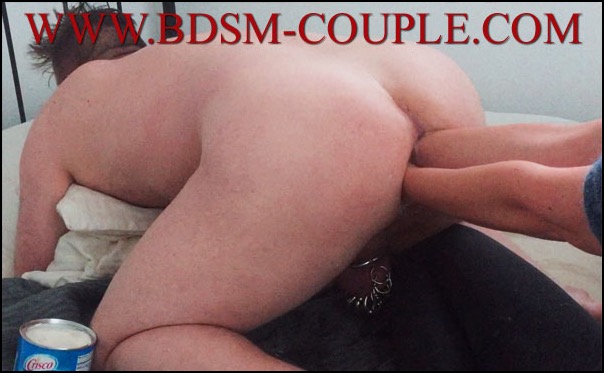 It took a little work and my slave's ass was very tight. But it's really just a question about how hard you have to push - isn't it?!!

I'm sure it must have been a little painful for my slave prince, but he did well and let me have my way without any protests. I'm curious about how sore he feels tomorrow!

After the double fisting I decided to go DEEP and he was able to take my arm up to the elbow…. we'll have to do that again soon a make a video for you!

Watch full videos and all photos on my LoverFans :-)
Miss M.


Don't forget to follow us:


Clips4Sale


LoverFans



Pornhub



Twitter



Tumblr


Instagram