10–12-2018
Vote: More stretching

My slave just got a
new tool
for stretching his ass. And what a tool - It's HUGE. But that only means he'll have to work hard to prove himself worthy of it.
And I must say that he fought well the first time he attempted to impale himself on it.
Spoiler Alert
: He didn't take it all the way but he was damn close. He started out taking his usual tool for stretching all the way inside with no problems at all - very easy and boring (and a little impressive!).
And then he started working on the new one while I watched and enjoyed the show.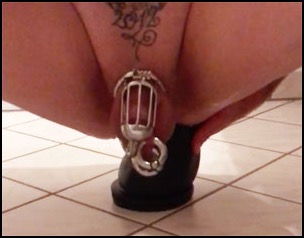 He tried SO hard to get it all the way in. And I loved every single second of his painful struggle.
Every time he made a new attempt he got it a little further inside. I could tell it was painfull - and even more painful when he realized that he just couldn't make it!
But as the old folks say: "It matters not if you win or loose but how you play the game". And he played well.
He pushed and wriggled but he was helplessly stuck at the fattest part of the dildo! So close and yet so far. Ooooh dear…. poor slave!
To be honest I'm glad he didn't make it in his first attempt. It's like a puzzle…. if you can fit all the pieces in a jiffy it's no fun. I really love to watch him make an effort to please me. He knows how much I would like to watch this new monster disappear completely inside him, so he really put his back into it! And THAT turns me on!
In the video I made for you all to watch, it's clear how loose and open his ass was after his struggle.
He was able to slide his own fist inside just like that. And his hand is not small!
I could tell he enjoyed fisting himself … my slave is such a pervertet pig. Lucky ME!!
As a reward for trying so hard (or as a punishment for failing to impale himself completely?) I have decided that he must sleep with a butt plug in his ass.
Who am I kidding? it's really just because the thought turns me on. Knowing that his ass will be stretched even during the night makes me wet!
Unfortunately none of our butt plugs will do since they all have sharp edges around the base, are to small or to big. So I'll tell my slave to buy a butt plug suitable for nightly stretching and long term wearing. I believe it's important to keep breaking new ground and challenge my slave!!
Enjoy the video and watch the full version on my LoverFans :-)

When we post blog entries like this we usually get e-mails with questions about the toy and where to buy it. Miss M. has asked me to save us all some time and provide the information:
The dildo is called "Boss Hogg", it's size XXL. It comes in different sizes, and you can get your very own at Mrhankeystoys.com. I can REALLY recommend it!

Miss M.


Don't forget to follow us:


Clips4Sale



LoverFans


Pornhub


Twitter


Tumblr


Instagram