05–12-2018
Vote: More stretching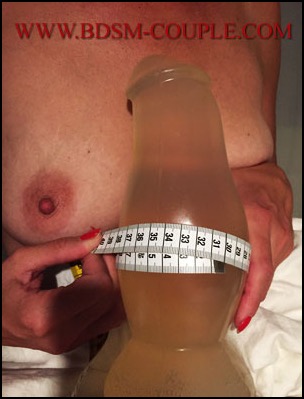 Miss M. sometimes allows our followers on Twitter to decide how she is going to use me. And this time she asked if my ass was stretched enough or it should be stretched even more.
The dildo in the image on the right is the fattest one we've got. And back in July I was finally able to get past the widest part (circumference: 30 cm) of it and
take it all
.
It hurt…. but it went all the way inside me. Next time it hurt a little less. And every time I used it I made progress. Now I am able to take it without feeling any pain - and it takes less than 10 minutes to get it in. Naturally I told Miss M. about how well my anal training went, and she decided to to ask our followers on Twitter if I needed further stretching.
The result was very clear. A staggering majority of 91 % wanted my ass stretched even wider, and Miss M. has told me to buy a larger dildo.
It's not easy to find the right toy online. First of all it's impossible to know how hard or soft the dildo is. And a lot of shops only provides information about the diameter and length - not circumference. So buying the right dildo required a lot of research and calculations.
I thought I had found the right dildo to stretch my ass just a liiiiitle a little wider. It is relatively soft, and according to my calculations (after converting inches to cm) the circumference should be a little less than 33 cm, which is fatter than the "old" one but not so huge, that it seems like an impossible mission to get it all the way in before long.
But as you can see in the picture of a very happy Miss M. holding it, my calculations were
completely wrong
.

The circumference is in fact 34.5 cm….. OH MY GOD - it's a MONSTER! This toy (or should I say "TOOL"?!) will totally destroy my ass - what have I done!

Watch full videos and all photos on my LoverFans :-)

slave p.


Don't forget to follow us:



Clips4Sale


LoverFans


Pornhub



Twitter


Tumblr



Instagram