12-06-2019
Fun in the garden

Miss M. has already told you all how much she loves to read - and what could be better than doing a bit of naughty reading in the garden while drinking coffee?

At first the sun was a bit to bright for Miss M. But that's not a problem when she owns a slave with two hands: One hand for the parasol and one hand for the tray with her coffee! Isn't that nice?

It was very warm standing naked in the sun holding a parasol and a tray of coffee … a little boring not being allowed to say a word… and VERY arousing to stand and look at Miss M.'s nipples getting hard from reading her kinky book. It really made my cage feel tight!
Fortunately Miss M. soon remembered that her slave could be put to good use in another way than just standing next to her. And the way she thought of is my favourite way!
I love to eat her pussy even though it costs me
10 strokes with her cane
every time I make her cum. And I really love to eat her pussy in the sun! The birds are singing while the sun caresses my naked skin - and there is always a risk of getting caught in the act. It's never actually happened …. but still…. the thought is very naughty!
After cumming Miss M. told me to stay on my hands and knees and become her coffee table and foot stool - which I naturally did with no hesitation (hoping for another chance to use my tongue).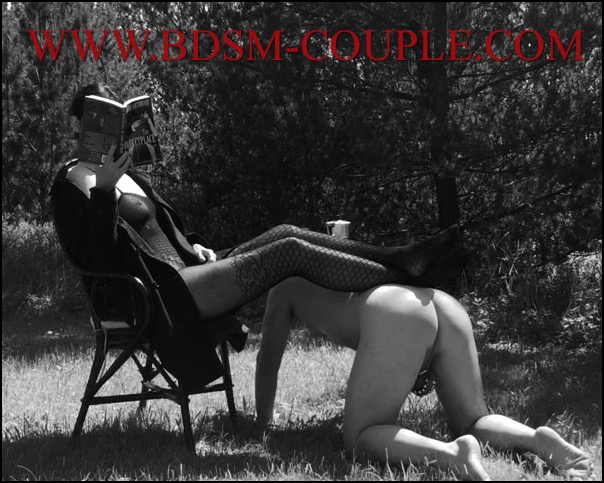 What a wonderful way to spend a sunny afternoon when the kids are not in - I LOVE IT!
Watch full videos and all photos on Miss M.'s
LoverFans
:-)
slave p.

Don't forget to follow us:



Clips4Sale

LoverFans
Pornhub

Twitter
Tumblr

Instagram