05-06-2019
Erotic literature

I love to read fiction - but when it comes to erotic literature I enjoy it much more when my slave reads out loud. He has a wonderful (sexy!) voice and he really makes the stories come to life….. it's most inspiring!

We have read all the classics like "The story of O", "Venus in furs", "Justine" and "120 days of sodom" … and then we ran out of naughty books. PANIC!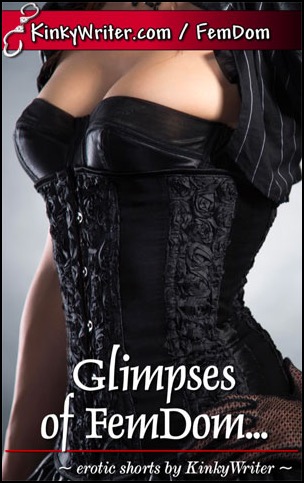 Fortunately my slave is used to doing research on my behalf and he knows exactly what I like and what pleases me.
I like books about BDSM and I really love books about dominant women and submissive men. Recently my slave presented a book by an author I hadn't heard of before. He or she is called "KinkyWriter" (I'm still trying to figure out if it's a he or a she - please tell me if you know!) and the title of the book my slave downloaded is "Glimpses of Femdom".
Femdom…. that word has a certain ring to it… I can recognize a great deal from my own life in the story - including taking my slave to town making him pay for my shopping and making him wear a chastity device. Until page 11 I was in fact worried that the story WAS about ME and MY life!!!! But page 11 made me breathe a sigh of relief!
Don't worry…. I'm not going to tell you what happens at page 11 but I hope you'll take the time to find out for yourself. I can greatly recommend the book, and I was
so happy
to discover that this is not the only book by my new favorite author - this summer my slave is going to do a lot of reading out loud for me!!
If you feel the urge to get wet (or hard even if you're a guy) from reading kinky stories you can
find plenty right here
!
Prices are
very reasonable
and its even possible to
become a Patreon
and get
5 books
for only
5 USD
- I like that!!
I wish you all a wonderful summer of naughty reading!!!
Miss M.


Don't forget to follow us:


Clips4Sale
LoverFans
Pornhub
Twitter

Tumblr

Instagram