02-06-2019
Extreme stretching

I DID IT! It took me completely by surprise that I was able to take it all - and this monster is now officially my favourite dildo!


Yes…. I have been stretching for a long time and yes…. I have been stretching with some rather large toys (to say the least!). But I have never been able to force something this big so far inside my body….

The dildo is precisely as hard as it should be in order not to bend when I use all my weight and yet it's nice and soft and doesn't hurt a bit.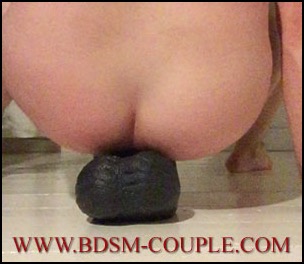 It took som wriggling but when my ass gave in and the monster impaled me it felt like my pelvic bones also gave in. The feeling was absolutely marvelous and I have never felt so filled before! The way the dildo widens at the base is just perfect!
Miss M. watched me taking the whole thing. She told me afterwards that she actually was a little chocked when she saw the whole thing disappear completely inside me.
And I must admit that I was a bit chocked my self. First of all because I was able to do it - and secondly because it felt SO GOOD!
No pain just the perfect DEEP STRETCH!! I'll stick to this baby for a while, and then I guess I'm ready for something even bigger!!
Enjoy the video and watch the full version on Miss M.'s
LoverFans
:-)
When we post blog entries like this we usually get e-mails with questions about the toy and where to buy it. I'll save us all some time and provide the information:
The dildo is called "Topher Michels", it's size XXXL. It comes in different sizes, and you can get your very own at
Mrhankeystoys.com
.

slave p.


Don't forget to follow us:



Clips4Sale
LoverFans

Pornhub
Twitter

Tumblr

Instagram