05-11-2019
Autumn is hard work!

It's getting colder outside, and the leaves has become golden brown. It's beautiful!

And best of all it's time to sit by the fire when it gets dark… having a drink or two.

But when I told slave p. to get that fire going and mix me a dry martini I discovered, that he had been sloppy when he chopped firewood during spring. The logs were way to big for my little fireplace!

Well… I believe that slave p. learns much better from his mistakes when they have unpleasant consequences for him. And since it was cold outside…. and raining… and the neighbors might see him…. I told him to get outside and correct his mistake only wearing cuffs, cock cage and a black mask.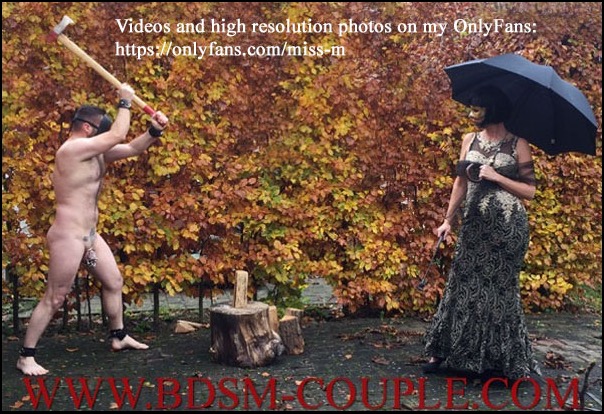 You might have guessed it by looking at my bare shoulders: I just went outside to get in the photo. The rest of the time I stayed inside behind a locked door and kept an eye on slave p. to make sure he did as he was told.

I'm not going to risk catching a cold or pneumonia from staying too long out in the cold. And why should I, when I can stay inside and keep warm knowing slave p. will do the job as fast as possible to be allowed back in!

Watch full videos and all photos on my LoverFans :-)
Miss M.


Don't forget to follow us:



Clips4Sale


LoverFans


Pornhub


Twitter


Tumblr


Instagram