03–10-2019
Chili (oh dear!)

Miss M. is hooked on vegetables and a healthy diet. This summer we have been growing a lot of very hot chilies and she has made chili sauce….. very hot chili sauce…. since we both like very hot and spicy food!

A while back I forgot to do a special task Miss M. had told me to do. This made her very disappointed and angry, and she told me to suggest a harsh punishment. Her fondness of chili came to mind, and I suggested that my cock should be covered in chili sauce, and that I was not allowed to wash if off before I had made her cum using my tongue.

She asked her followers on Twitter if they wanted to watch, and 93% voted YES. This means that (at least) 93% of her followers are perverts…. wonderful!
Miss M. really liked the combination of her pleasure and my pain (and her pleasure caused by my pain!!), and she accepted my suggestion.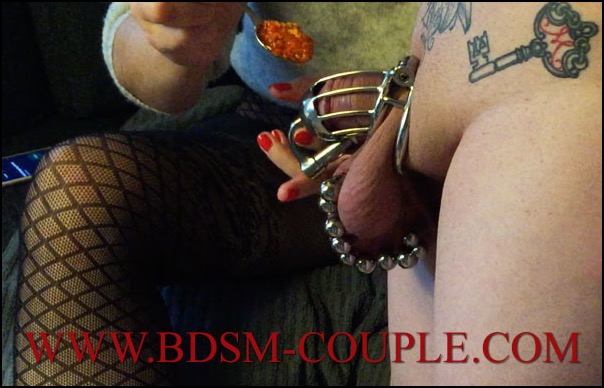 I had never had chili applied to my private parts before, and I must say that I hope it never happens again!!
The day she wanted to do it, she had already had three orgasms, and we both suspected that she would take forever to cum. She liked the thought of that and I didn't!
When Miss M. applied the chili to my cock I felt …. nothing. That is … nothing but relief - and I could tell that Miss M. was very disappointed by the total lack of effect. The seconds passed and still I felt no heat or anything suggesting that this would become a very painful experience.
I started licking, and suddenly I felt a little tingle.
Not anything unpleasant - in fact it felt rather nice. The intensity increased, and I liked it even more until…. until it became a little too intense!
A little too intense turned into
much
too intense…. and painful! It felt like my cock was on fire!!!!
Miss M. was nowhere near cumming - but then she noticed the change in my breathing and the desperate look in my eyes. That changed everything: I could taste how wet she became and how much my agony turned her on!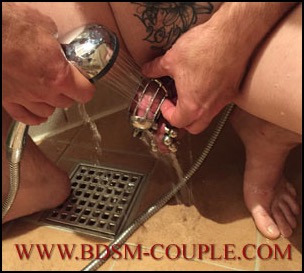 Much to my relief Miss M. came really quick even though it was her fourth orgasm that day.
And then I rushed to the shower and stayed there for 20 minutes using cold water to ease the pain!
My only comfort is that Miss M. liked the show so much, that she has told her three other chastity slaves to apply hot chili sauce to their locked cocks and leave it on for five minutes … and make videos for her!
Enjoy the video and watch the full version on Miss M.'s
LoverFans
:-)

slave p.


Don't forget to follow us:


Clips4Sale
LoverFans
Pornhub

Twitter
Tumblr

Instagram