16–09-2019
Chastity slaves

Last year I was the only slave Miss M. owned. But I must say things have changed since then. Including me she now has four male slaves locked in long term chastity. She has never met her other slaves IRL since she is taking care of their training by email - but nevertheless it's rather strange for me to know that she owns other slaves.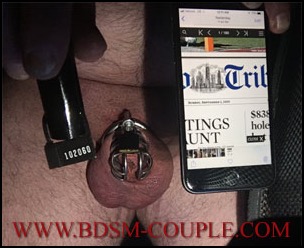 I can tell by the look on her face how much she enjoys playing with her new male toys, when they send her photos to document that
HER
cocks are still locked and the emergency keys still secured…
… and when they send videos of the tasks they perform at her command: piss drinking, balls stretching, wearing women's underwear…. you name it…
Anything
she
wants them to do for
her
pleasure and amusement.
The sweet and shy girl I married many years ago has transformed from my loving wife into a full-blown Mistress, who owns several slaves and enjoys to torment them and keep them locked in long term chastity. No orgasms under her strict rule. I am now just one of her personal male toys. And I absolutely love it!!
In the video below she is securing an emergency key for slave E. who lives in the US.
Enjoy the video and watch the full version on Miss M.'s
LoverFans
:-)

slave p.


Don't forget to follow us:


Clips4Sale
LoverFans

Pornhub
Twitter

Tumblr

Instagram