07–09-2019
Three huge dildos


Our collection of HUGE dildos seems to get bigger and bigger, and Miss M. is not the only one who loves to watch objects disappear deep inside me.

Miss M. gets a lot of requests for
custom made videos
of me having all kinds of objects stuffed inside my ass. She has filled me with all sorts of fruit, candy and vegetables - even whipped cream - and made me eat it all afterwards.
She has stuffed me with panties, ping-pong balls and …. well…. in fact she has stuffed me with just about anything that anyone has wanted to watch her stuff inside me.
But our huge dildos still seem to be the most popular feature, and last week Miss M. had a request for something I had never done before:
Ride three huge dildos; One after the other…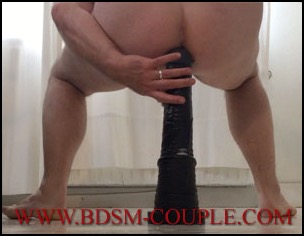 I love and fear the huge dildos. The feeling when I use my weight to force them inside is amazing.
Sometimes I believe, that I can literally feel my pelvic bones being forced apart - and I can feel everything deep inside me shift around to make room for the huge dildos. Wow!
But if I'm tired or simply not in the mood it can be rather painful. Miss M. doesn't care about that.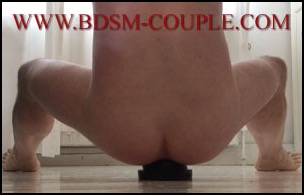 If she has promised someone a video or just wants me to perform for her pleasure while she masturbates or enjoys a glass of wine… she tells me to do it.
When she wants me to stretch wide and deep - I have to stretch wide and deep!
And this time I had to ride three huge dildos.
A long and fat horses cock, a very fat and soft one and a very fat one which is a little harder. Miss M. and the gentleman who wanted the video had talked about five huge dildos, but he settled for three. And to tell you the truth I was happy it was "only" three dildos.
Each of them stretches my ass in a different way, and afterwards I was SO open that I had no difficulties shoving my own fist inside when I was taking a shower. My ass was loose and open for hours afterwards, and I had to rush to the bathroom every time lube started dripping….
Enough talking for now. Miss M. and the gentleman who ordered the video were both happy - and this is all that matters!
Enjoy the video and watch the full version on Miss M.'s
LoverFans
:-)
When we post blog entries like this, Miss M. usually get e-mails with questions about the toys and where to buy them, so she has told me to save us all some time and provide the information:
The dildos are called (from left to right) "
Centaur"
(size XXL),
"Boss hog"
(size XXL) and "
Topher Michels"
(size XXXL). They come in all different sizes, and you can get your very own
right here
!


slave p.


Don't forget to follow us:


Clips4Sale
LoverFans
Pornhub
Twitter

Tumblr

Instagram