27-09-2020
Doing my toenails

Being a slave is not all about dungeons and whips and chains like most imagine. That part is actually the least of it. Most of the time being a slave is about everyday life … it's about making the owners life easier and more comfy. In my house it means doing things, that I can't be bothered to do myself.

You might know, that I haven't shaved my pussy since 2012; slave p. does that for me about once a week. He also makes coffee in the morning and brings it to me, so I don't have to get out of bed. And of course he also licks my pussy every morning making my day start in a perfect way! He makes a hot water bottle for me every evening (I love that!) so I don't get cold at night… and he does so much more.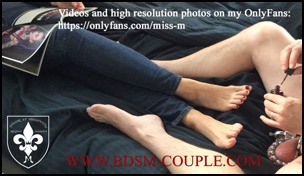 I'm not going to mention all the things he does for me - but one of my favourite things is, that he does my fingernails and my toe nails.
It's wonderful to just sit back and relax while he removes the old nail polish, applies lotion and then makes my nails all red and shiny again!
I enjoy watching him work! He has become really good at it, and I really like that he works with such devotion to keep me beautiful. It is indeed a very intimate situation and it underlines the bond between us. Just writing this makes me all warm inside!
Enjoy the short video! As usual all high resolution photos and the full video is on my
LoverFans
.
Miss M.

Don't forget to follow us:



Clips4Sale

LoverFans

Pornhub
Twitter

Tumblr

Instagram