16-09-2020
Fucking Machine & Riding Crop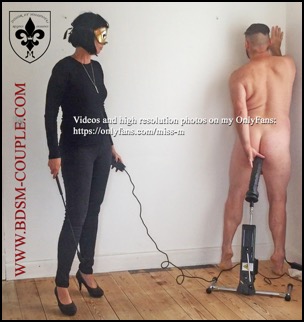 I am getting increasingly fond of my Fucking Machine (don't forget to read
my review
) and it's so much fun!
Lately I have begun to combine other things with it….. for example slave p.'s monthly punishment! He hates my riding crop. It is heavy and has a deep impact, but it also has a wonderful effect on the skin.
This means that it makes his skin sore as well as the deeper tissue. I lovet that! So I began to wonder how he would handle the Riding Crop AND the Fucking Machine at the same time.
How would he cope with that? Would he beg for it to stop? Fascinating thought!
And the great benefit of having your husband as your slave is, that I can do anything I want to him. So I decided to give his ass a good pounding while I used my riding crop.
I handed slave p. the control so I could focus on beating him. And all I had to do to adjust the pace was tell him to do it for me. So easy and fun to use slave p. as my remote control!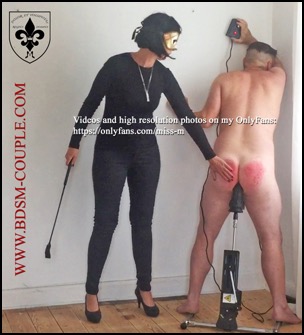 The effect of being fucked with a huge dildo and being cropped at the same time was marvelous! The poor boy got all confused! And I almost think the dildo being thrusted so deep inside him diverted his attention from the painful cropping.
When I was done using the Riding Crop he was sore on his bottom and inside his ass. WOW!
I have so many other ideas…. How about he sucks my toes…. or licks my pussy while I use the Fucking Machine on him?! The mere thought makes me wet!
And I believe I have learned to controll the machine so well, that it's time to try an even larger dildo… THAT WILL BE FUN!
I know a lot of you will ask where to buy the machine, and
this is the place to go!
Enjoy the short video! As usual all high resolution photos and the full video is on my
LoverFans
.

Miss M.

Don't forget to follow us:


Clips4Sale



LoverFans


Pornhub


Twitter



Tumblr


Instagram