08-09-2020
Fucking Machine in action!

Let me start by stating that even though this machine is expensive, it is worth every penny! I'm not going into detail about the machine - you can read my review right here - so I'll get right to my fun with slave p.!


I could tell he was nervous when he saw the long dildo I had chosen for his evening of HARD FUCKING. And I understood completely why, since I knew I was going to test the Fucking Machine (and slave p.) to the max.! Mmmm….

First of all I wanted to make sure, he would not be able to move away from the machine. So I attached a dog leach to his ball gag. A simple and efficient solution! And then the show began….

I started out slow and experimented a little with the pace and different programs on the app. It has so many possibilities! And then I started to get increasingly rough. The machine is powerful and slave p. was not able to resist the trusts even though I could tell he sometimes tried to push the dildo out - not on purpose but as a reflex due to the deep impact.

After about 20 minutes I decided to really give it to him, so I found a program with fast fucking in intervals. It was marvelous. My poor husband was roaring like a beast, when the dildo started penetrating very fast. And in every short interval between the extreme fucking, slave p. seemed to be almost panicking by the thought of the next series of HARD and FAST thrusts sending the dildo deep inside him.

I don't have to tell you, that I loved every roar and every second of this crazy show! And at the end the dildo was going so fast, that the clear lube was whipped into a white foam. Wow!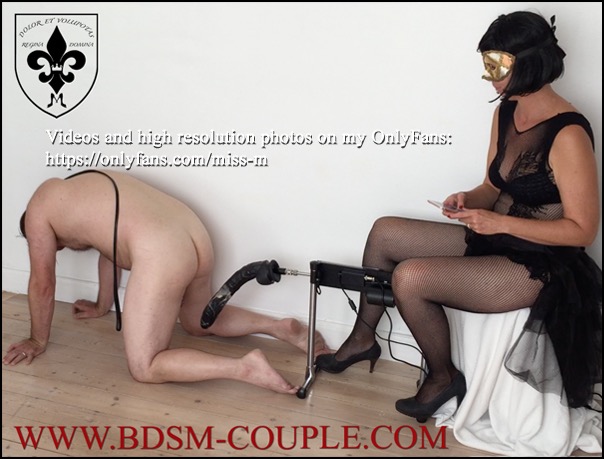 I didn't notice during the show, but afterwards I saw that the deep and hard thrusts had made him piss on the floor. Amazing - he had never done that before! And as a reward for taking it all I allowed him to lick my soaking wet pussy, before I told him to lick the floor clean…..

This machine is the perfect match with my rather special marriage. I am going to have so much fun watching slave p. get impaled every chance I get. And it is marvelous that I can sit back and relax while I watch him struggle!

I know a lot of you will ask where to buy the machine, and this is the place to go!

Enjoy the short video! As usual all high resolution photos and the full video is on my LoverFans.


Miss M.

Don't forget to follow us:


Clips4Sale



LoverFans


Pornhub



Twitter



Tumblr



Instagram