26-06-2020
Milking of slave p.

I have been locked and denied since 31. December 2019. This means NO orgasms so far In 2020…. almost 6 months! But I understand, that it's not good for the health not to release cum at all. So how is it done without having an orgasm?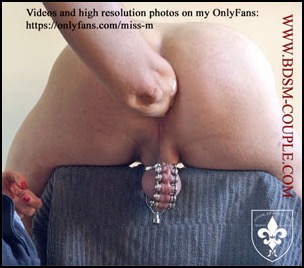 Usually I use my huge dildos. When I penetrate my self
REALLY DEEP
with a LONG and FAT dildo, my prostate gets stimulated, and cum starts dripping slowly from my locked cock. It's not easy, and it takes forever. But I do it from time to time….
Until now I had never experienced it from getting fisted. It's so different from using a dildo and being 100% in control. When Miss M. fists me, SHE is in control and decides how fast and how deep.
When I can't take any more, she likes to keep pushing and keep har arm deep inside me.
As time has gone by, my intestines has gradually been stretched. We have both gained more experience, and Miss M. has become increasingly rough.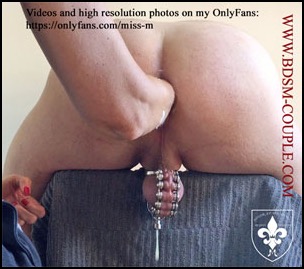 She has found out, that I can take a lot without getting hurt, and she is not as nervous about causing injuries as she was in the beginning.
A few days ago she had her arm DEEP inside me. I desperately tried to push her arm out, and she pushed back HARD to keep it inside me. I felt like being fucked by a very eager stallion - and then I suddenly released cum. Not just one or two drops…. but a lot …. after just a few minutes of deep fisting!
It's was very strange sensation to feel the cum shooting out, and not being able to control it at all…. not feeling anything but a sensation similar to peeing and knowing, that Miss M. had made it happen.
It seems that Miss M. has found a very efficient way of milking me - and I must admit I loved it when she showed me who is boss by milking me dry… and there was nothing I could do about it! WOW!
Enjoy the short video! As usual all high resolution photos and the full (RELEASE!) video is on my
LoverFans
.
slave p.

Don't forget to follow us:


Clips4Sale

LoverFans
Pornhub
Twitter

Tumblr
Instagram