11-06-2020
1000 strokes!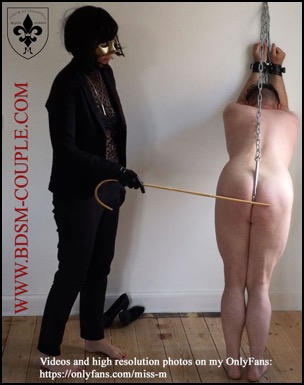 To celebrate her birthday Miss M. decided to have a quiz. And not just any quiz. It was a quiz about my endurance and had one very simple question: "How many strokes with my cane can slave p. take?" She set the maximum to 1000 strokes and promised to hit as hard as she could. And believe me… she did!

Usually she starts out being relatively gentle, but not this time. From number one she hit me full force - and it hurt like no caning I had ever had. But to make Miss M. proud I had decided to stay in position and only use my voice for counting the strokes out loud. I held on to the chains and felt the anal hook deep inside me when I pushed my butt backwards to make it easy for Miss M.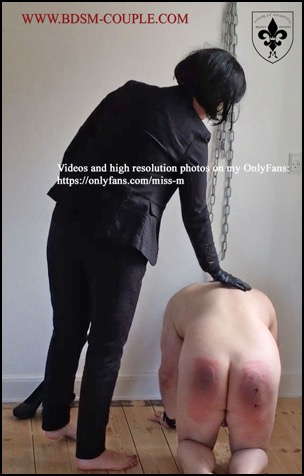 And she kept hitting me. The first 100 was almost unbearable. The next 100 hurt a little less. And after about 200 more the pain gradually faded out and gave way to the bliss of subspace. My mind started drifting while I tried to focus on counting. And every time the cane hit my butt I felt more and more like being caressed. An absolutely wonderful feeling!
I knew my butt was being absolutely destroyed, but I didn't care. Miss M. has the right to do so, if she wants to. And I was grateful that she just kept on going….
After we reached 1000 she removed the chains and the Anal Hook and let me catch my breath.
And then she called from the bedroom ordering me to crawl to her on all fours … and lick her pussy. A perfect reward for taking it all without complaining.
When I tasted her soaking wet pussy there was no doubt in my mind that she had enjoyed using the cane so hard for so long. Mmmmm…..
Enjoy the short video! As usual all high resolution photos and the full video (20 minutes) is on Miss M.'s
LoverFans
:-)
slave p.

Don't forget to follow us:


Clips4Sale
LoverFans
Pornhub
Twitter
Tumblr
Instagram