02-06-2020
My Birthday

Today is my birthday, and it has been a perfect day so far - but I'll tell you about my morning.

As usual slave p. switched of the alarm clock before it awoke me.

And then he began to use his tongue very gently awakening me the way I love… making me cum before he got out of bed to make my coffee.

Business as usual. Nothing new about that.

But today was special, since besides my coffee he also brought me my birthday present!

It was heavy and when I shook it, it made a metallic noise and felt very strange. Almost like something inside kept moving after I stopped shaking it…. I had absolutely no clue what it could be!
I love opening presents. And I especially love it when I don't know what it is! Inside was a little black velvet bag, and when I saw the print on the bag, I knew it was something naughty made of steel - just like the
HUGE steel ball
I got for slave p.
This toy was a lot smaller than slave p.'s steel ball which was good, since it was for me - and I have a
very tight
pussy!
I recognized it immediately. It was The Micro String, and I could feel the moving core inside the steel ball that should go inside my pussy….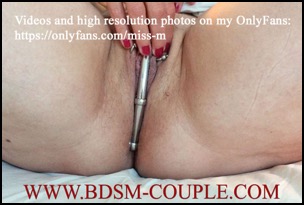 Mmmm…. I told slave p. to wash the toy in hot water and make it nice and warm for me. And when he got back I inserted it.
It felt wonderful….. the steel rod touched my clitoris, my labia and my ass at the same time. And when I walked around the moving core felt so great!!
Now we both have a steel toy to walk around with - and I can tell you one thing for sure: We are going for a very long and naughty birthday walk!
YOU can get your very own steel toy at
biwieshop.de
!
All full videos and all photos are of course on my
LoverFans
:-)
Miss M.

Don't forget to follow us:


Clips4Sale
LoverFans
Pornhub

Twitter
Tumblr
Instagram