23-02-2020
Wearing the Cock Cage

Today it's been 9 days, since the old Cock Cage was removed, and the new one was installed (you can see more about the change right here). The Cock Cage has been in place every second since then.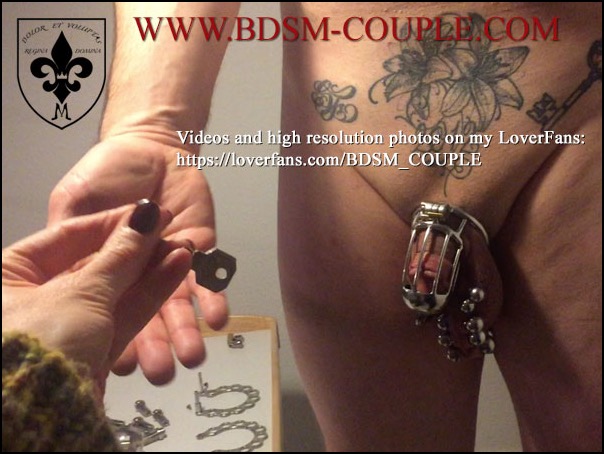 I'll tell you about what it's like to wear the new cage, but first a little about the old Cock Cage. When we first started, I soon discovered that wearing it 24/7 caused my foreskin to swell, since the foreskin had to be pulled back due to the padlock going through my Prince Albert piercing.
As you may have noticed I have a lot of scrotal piercings, and unfortunately the Cock Cage had a tendency to pinch the piercings. The result was that we had to remove the Cock Cage every day at bedtime to avoid the swelling and that I had to use cotton pads while wearing the cock Cage to avoid the pinching of my piercings. You can read about it right here..

That was the reason why we began to think about getting a new cage - and the reason why I came up with the idea of two rails holding onto and protecting my scrotal piercings.

And now to the new Cock Cage: My scrotal piercings are held in place and protected by the two rails, and the steel rod going through my Prince Albert piercing is designed in such a way that my foreskin doesn't have to be pulled back. After we had installed the new Cock Cage I was very excited about finding out if the problems were solved - and to find out if wearing such a HEAVY Cock Cage would be a problem.


I'm very happy to tell you all, that everything works so fine! Steelwerks have done a wonderful job getting the two rails just right (they are in fact PERFECT!) and their design of the Prince Albert Lock / Urethra Tube is ingenious! I have experienced no problems wearing the Cock Cage so far.

The weight is not a problem, since the cage is secured by 10 steel rods going through my scrotum and one steel rod going through my penis.

This means that the Cock Cage is held securely in place and in fact the weight of all that steel around and through my private parts feels rather good when I'm naked.

Since the Cock Cage is rather big, it makes a distinct bulge in my pants. I have been experimenting to find out the best way to minimize the bulging - but never the less there is a bulge. By the looks from my female colleagues I can tell that they have noticed … I wonder how they would react if they knew what caused the impressive bulge!

I don't know when (or if?!) the Cock Cage will come off since there's no health wise reason to remove it. I guess only time will tell…..

Miss M. has told me to show you a short video of installing the new Cock Cage (you can watch the full 18 minutes video on her LoverFans).

Enjoy:


slave p.


Don't forget to follow us:


Clips4Sale



LoverFans


Pornhub



Twitter


Tumblr


Instagram