16-02-2020
Installing the Cock Cage!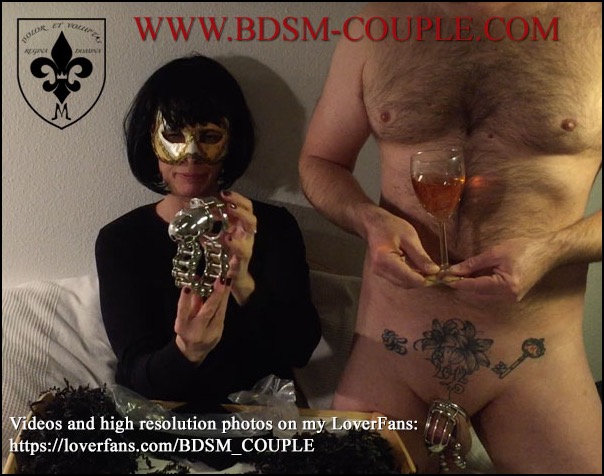 This Valentines Day was very special, since the new Cock Cage literally became part of slave p.
Let me tell you a little about the cage. It's made of steel and HEAVY. It's really a classic cage besides one very significant detail:
The two rails with 10 steel rods for securing the cage to slave p.'s scrotum. The steel rods are 10 mm in diameter. Inside the Cock Cage is a hollow steel rod going through slave p.'s Prince Albert Piercing.
This means that the beautiful steel construction is attached (and secured!) to slave p. By 11 steel rods going through holes in his cock and scrotum.
Installing the Cock Cage was not as difficult as I expected it to be.
It only took slave p. 20 minutes to remove the old Cock Cage + the piercings and install the new one.
It was fascinating to watch the proces or maybe I should rather say transformation. Transformation from pierced Chastity Slave to…. EXTREME Chastity Slave!
Enough talk…. In a few days I'll let slave p. tell you about what it's like to wear such a heavy and extreme chastity cage and show you some of the proces of installing the Cock Cage. But now it's time for a little video of me unpacking the fiendish device from
Steelwerks
…. Enjoy!
The full video is of course available on my
LoverFans
:-)
Miss M.


Don't forget to follow us:



Clips4Sale
LoverFans
Pornhub
Twitter
Tumblr
Instagram