11-02-2020
EXTREME CHASTITY!

Today is a very special day marking the beginning of a new era. An era of very Extreme Chastity for slave p. which will presumably last for the rest of his life. Today he picked up a parcel containing his new Cock Cage.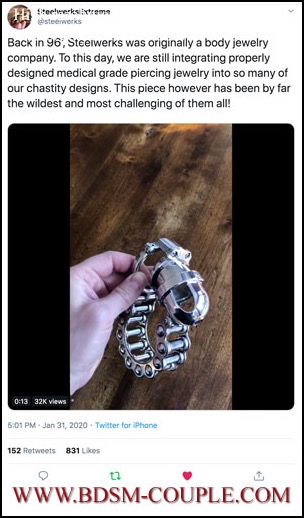 The process started back in the beginning of August 2019 when slave p. had an idea for a very special Cock Cage.
In short his idea was a cage incorporating his PA and his 10 scrotal piercing using them to attach and secure the cage to his cock and balls by steel rods through the piercing holes.
I loved it - so we sent a childish drawing of the cage we had in mind to Christopher at
Steelwerks
. He also liked the idea of building such a complicated and extreme Cock Cage. And then the process of finding the right design began….
Since we are in Europe and the skilled manufacture of the Cock Cage is in Canada, we couldn't just pop by for a fitting.
So it took som time to get it right. But the result was a cage that Steelwerks wrote was "by far the wildest and most challenging" they had ever made.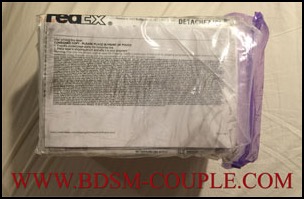 I haven't actually seen the cage live yet. Tha parcel has been brought home and is right here on the living room table. But since slave p. Is SO EAGER to open the parcel, I want to tease him a little.
I have told him that I will open the parcel on Friday. Until then he is allowed to touch and lift the parcel. He is even allowed to smell it or taste it it he wants to, but it will NOT be opened until Friday.
Of course I am just as curious and excited as he is, but making him wait is pure torture - and so much fun for me!
We are having some busy days this week and on Saturday we'll be shooting a Custom Made Video doing some CBT that will not be possible with the new Cock Cage. But THEN we'll be installing this fiendish device!!! Oh my… I CAN'T WAIT to see slave p.'s cock and balls locked and secured with 10 mm steel rods going through the most sensitive parts of his body - literally making the Cock Cage part of him!!!!
Miss M.


Don't forget to follow us:


Clips4Sale
LoverFans

Pornhub

Twitter

Tumblr
Instagram