05-01-2021
1 year of being locked and denied

My dear husband (slave p.) has been locked and denies since 31. December 2019 so he hasn't cum a single time for more than a year. After I wrote about his remarkable development from husband into 100% slave I have had a lot of questions about what slave p. feels about being locked and denied for so long - possibly for the rest of his life. So I have decided to have him tell about it.




Here you go:

"You may know that we started out with male chastity as an exciting and fun game in the fall of 2017. This was back when we used to switch and take turns being in control - and the idea of buying a cock cage was actually mine. The Cock Cage changed everything - and we don't switch anymore. My dear wife found it fascinating to keep my cock locked up and have the absolute power to decide if I would be allowed to fuck or not. And to be honest so did I!

The intervals between my orgasms slowly increased. And as they did my way of thinking began to change. I became more and more focussed on her needs …. including her sexual needs.

I slowly began to fully accept myself as her slave and personal property ….. and I began to think of her as my owner "Miss M." instead of as my wife.

Much to our surprise this transformation of my way of thinking seemed to be fully complete after about 10 months straight of being locked and denied.

I heard myself accept it without hesitation when she stated, that she had been thinking about letting other women rent me. I was a little shocked afterwards when I realized that I truly felt she had every right to do so. None of us knew that being locked and denied for so long would have that effect on my mind: I had truly become her slave and personal property in every way. FOR REAL. And my life has changed so much!

She now has the final word on every matter from what clothes I shall wear to financial decisions. My entire salary is transferred to her account and I only get 60 Euros a month to buy the most basic stuff needed for my personal hygiene and socks etc. Everything else I have to ask her for and it's up to her if I get it or not. And not only do I accept being owned by her; I love it!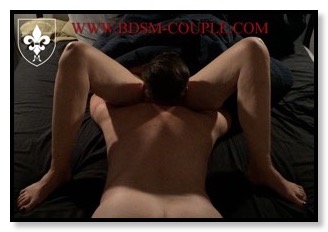 She has informed me that she'll be sending me to London (England) and Malmo (Sweden) as soon as the COVID-19 has blown over to serve women who has asked to rent me. I don't know who they are, how old they are or what they look like.

And frankly it doesn't really matter to me. All I know is that I'm to use my tongue anywhere on their bodies they tell me to.

I really love serving Miss M. in every way she wants me to and I'll do my very best to make her proud by making the Ladies happy!

And what about our sex life you may ask?


Well….. our sex life has never been better. I don't get to cum, so am turned on and eager to please her sexual needs 24/7. All she has to do is point a finger towards her pussy to make me fall on my knees and start licking…. day or night. In fact I often beg for permission to lick, even though every orgasm I give her earns me 10 strokes with her cane.

It doesn't matter….. I NEED to lick, and Miss M. has never had so many orgasms before in her life. So what about the future? I expect to stay locked and denied for the rest of my lifte and to serve my beautiful owner Miss M. I totally accept it and I enjoy every second of it."

I must admit that I loved reading what slave p. had to say about being permanently locked and denied …. and being my slave and personal property. I love my naughty boy!
Miss M.


Don't forget to follow us:



Clips4Sale

LoverFans
Pornhub

Twitter

Tumblr
Instagram