01-01-2021
Happy New Year 2021!

Happy New Year!
2020 has been a strange year but it hasn't been all bad!!
In February the most
extreme Cock Cage
ever built was installed around and through my dear husband genitals.
Oh God I love having his genitals locked inside that Cock Cage!!!
Secured by 11 steel rods, all 10 mm in diameter, pierced through his scrotum and cock it's impossible for him to unlock or remove it without my permission.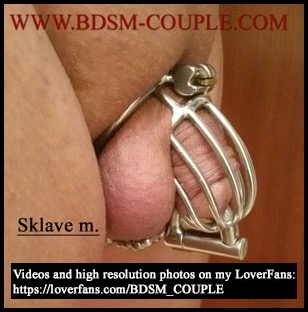 In March I could also welcome Sklave m. as my
locked slave
.

When he contacted me and informed me about his desire of being locked longterm I suggested 13 months…. for at start.

He accepted, and I really enjoy having his cock locked!

As you can see in the photo his cock is secured inside the Cock Cage with a padlock through a PA piercing.

So simple and yet so secure!

And then I continued the decoration of my husband's body!
I added a tattoo of the date he was locked in chastity for the very first time: 20-10-2017. That date has defined the way our marriage has developed since.
From a fun experiment it has become permanent. My husband is now locked and denied 24/7/365.
He didn't have a single orgasm in 2020, and I have no plans of letting cum anytime soon - if ever. But that doesn't mean that there's a lack of orgasms in my house. I just get them all!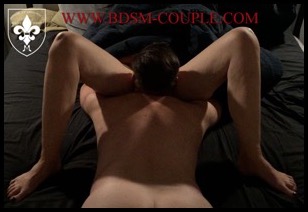 In 2020 I allowed my dear husband to lick my pussy and make me cum 499 times.
Since I have access to his wonderful tongue as often as I want it, I have almost stopped masturbating.
In 2020 I only made myself cum 15 times bringing the total number of my orgasms up to 514! Wow!
That must be a new personal record!
2020 also brought
3 Fucking Machines
into my house and I began punishing my husband for making mistakes in a new way. Every mistake he makes earns him 20 strokes with my
nail board
.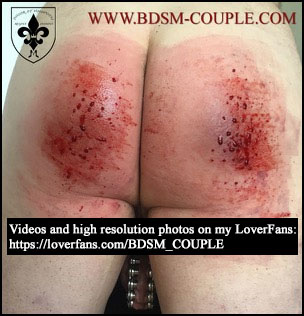 Besides the things I have already mentioned ONE thing made 2020 a very special year.
After years of hard work I finally reached my goal: In October the
transformation of my husband
into my 100% obedient slave was complete.
Complete denial of orgasms had done the trick and changed the way he thinks. He has accepted that he'll never fuck and cum again and all that's on his mind now is making me happy so I'll allow him to eat my pussy. He even accepts that I can let anyone I like use him.
And that brings me to the final milestone: I decided to let women
rent my husband
and use his marvelous tongue.
He was supposed to go to London in January to be used by a naughty group of women.
But COVID-19 and travel restrictions seems to have messed it up. I really hope that it gets under control so I can take the step I fantasize about and turn him into
my whore
!
HAPPY NEW YEAR!!!
Miss M.


Don't forget to follow us:


Clips4Sale
LoverFans
Pornhub
Twitter

Tumblr
Instagram