01–10-2018
DEEP pegging Vol. 2

As promissed last month I'll show you how my slave performed when I fucked him with our biggest dildo. And I'll tell you right away that he did very well indeed!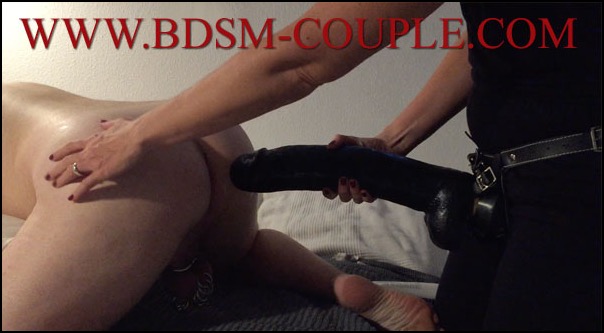 I had never fucked him with this monster before - and I was so excited (and a bit worried) about how deep I could go. But as it turned out I had no reason for concern. I just pushed it right in and even though he made a lot of noice when I fucked him HARD and DEEP, he took it all!

As you can see in the pics and in the video the dildo is truly FAT.
Compared to the thinner one I used in the beginning of our session my slave struggled a lot more.
And I REALLY enjoyed all the times he desperately moaned trying to push it out …. and I just kept it deep inside him.
He might think he's had enough - but I decide for how long I want to fuck him and destroy his ass. And I decide if he's allowed to push it out.
It's such a wonderful feeling to be in charge and have the power to make such important decisions!!!
Enjoy the little video I made for you - and rejoice; because this wasn't the end of our session. In a few days I'll show you how we finished!
Enjoy the video and watch the full version on my
LoverFans
:-)

Miss M.


Don't forget to follow us:


Clips4Sale

LoverFans

Pornhub

Twitter

Tumblr
Instagram