12-11-2017
Two weeks of chastity DONE!

We are taking a little time off to relax and have rented a cabin in a remote place. Well … Miss M. is really the only one relaxing since I am doing the cooking and the cleaning and everything else just like a slave should.

Besides all that I am doing my best to please Miss M. in every way imaginable and keeping her happy.


Yesterday Miss M. felt like a little wellness so I applied body lotion to her entire body and shaved her pussy while she was relaxing with cucumber slices on her face listening to Vivaldi.
After the shave I was allowed to lick her beautiful pussy which was wonderful for both of us.
Remember I have been denied orgasms for two weeks so anything involving Miss. M.´s pussy almost makes me cum!
Miss M. really enjoys how eager to please her tease and denial has made me and I think she enjoys playing little games humiliating me.
For example she said she wanted to reward me with a little snack since she enjoyed the wellness treatment so much.
And then she served me potato chips …. in a bowl on the kitchen floor and told me not to use my hands but to eat my snack just like a nice little pet dog would do. I loved every second of it - especially when I had to reach for the last ones with the tip of my tongue since I couldn't´t get my head inside the bowl!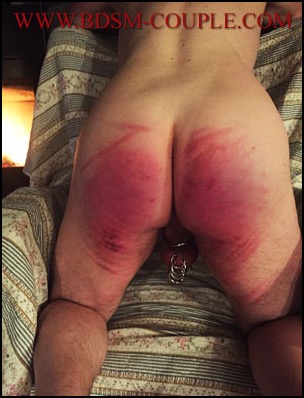 This wasn´t the only reward Miss M. had in mind for me. Miss M. is rather fond of the two long canes I gave her a while back.
One is thin leaving beautiful red stripes and the other one is rather heavy causing bruises. Miss M. was in high spirits and told me she would give me a thorough caning: 200 strokes on each butt cheek. And so she did!
Bend across the armchair by the fire I received the worst beating Miss M. had ever given me.
Even when I started to sweat end tremble she kept on going using both canes … and I loved every painful second of it!
In the video at the bottom of the page you can see my butt turning more and more red as Miss M. makes me count the strokes out loud. The harsh beating of her slave had turned Miss M. on and she commanded me to put on the strap on and fuck her! I was able to make it fit on top of the cockcage and for the first time of my life I experienced fucking a woman making her cum without getting any sexual satisfaction myself. My cock got hard in the cage as I fucked her but all in vane!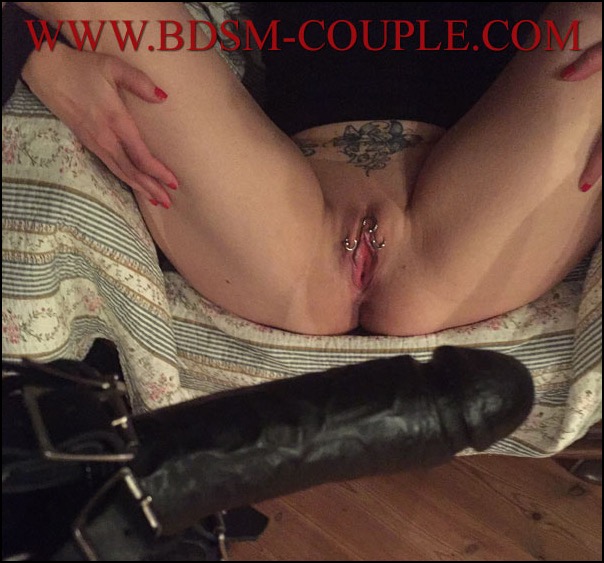 Watch the full video on Miss M.'s
LoverFans
:-)
This morning it was precisely two weeks ago Miss M. put me in chastity and this morning I was FINALLY allowed to make her cum using MY OWN COCK and cum deep inside her wonderful pussy. Ooooh…. what a magnificent feeling it was!!
Watch full videos and all photos on Miss M.'s
LoverFans
:-)
slave p.


Don't forget to follow us:



Clips4Sale
LoverFans

Pornhub

Twitter
Tumblr
Instagram