25-11-2017
THREE MONTHS of chastity for my slave!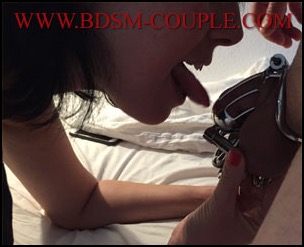 I did listen to the
voters on Twitter
when they decided that I should lock my slave in chastity for
only
two weeks. And those two weeks were wonderful! I enjoyed the way my slave paid attention to me and tried REALLY HARD to please me in every way possible - not just sexually - and I loved how intense our relationship became.
I was very kind to him when I unlocked the cockcage after two weeks. And to reward him for his good behavior I even allowed him to
cum inside my pussy
.
He loved it and so did I - I loooove the feeling of his hard fat cock deep inside me and his cum dripping from my pussy. But then I thought about all the benefits I get when he's in chastity. There are plenty of ways my slave can give me wonderful orgasms and I loved how cuddly he became and how eager he was to please me. So…. the day after I unlocked my slaves cockcage I put it back on! Ha!
This time he'll wear the cockcage for at least
three months
and of course he'll
not
be allowed to have a single orgasm! The first two weeks have almost passed and I love the effect it already has on him.
His mind is set on ME and MY needs and I know it only gets better as time goes by. All I have to do is enjoy the ride…perhaps three months is to short?!!
Watch full videos and all photos on my LoverFans :-)

Miss M.


Don't forget to follow us:


Clips4Sale


LoverFans



Pornhub


Twitter


Tumblr



Instagram