23–03-2019
Horse's Cock Pegging

I guess a great part of you have seen my first training session with the HUGE horse's cock? Miss M. was surprised and very please when she saw how deep I was able to get it the very first time I tried.

I should have guessed that she couldn't wait more than a few days before she wanted to take controll and use it for pegging….. the very first time the kids left the house for a couple of hours, she told me to clean out and attach the horse's cock to her harness.
I must admit that her order made me both thrilled and anxious at the same time…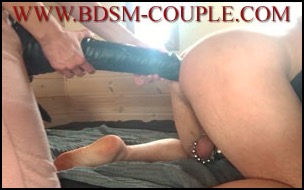 Sitting on a huge dildo - letting it sloooowly slide deep inside … being penetrated and stretched in your own time can be quite the challenge.
But having someone else forcing it deep inside you is a totally different ball game!
You have absolutely NO controll over what is happening.
You don't know when the next DEEP THRUST will suddenly come out of nowhere taking you completely by surprise…
Fortunately Miss M. allowed me to prepare my ass with some other dildos before she launched her attack.
And what an attack it was! Miss M. was not in a gentle mood…
It seemed like she was in a hurry and very eager to get the horse's cock all the way inside me as quickly as possible. Less than a minute after she penetrated me with the tip of the cock it had all disappeared!
The feeling of all that rubber being forced inside was overwhelming- and so was the total lack of control I feltl! As you can hear in the video the horse's cock literally knocked the wind out of me - and Miss M. was 100% in charge of the pace. I had no choice but to let Miss M. have her way with me…
It's strange how you can fear and love something like this at the same time. But there is no doubt in my mind that Miss M. doesn't share my rather ambivalent feelings towards extreme pegging: She just LOVES IT!
Enjoy the video and watch the full version on Miss M's
LoverFans
:-)
When we post blog entries like this we usually get e-mails with questions about the toy and where to buy it. Miss M. has asked me to save us all some time and provide the information:
The dildo is called "
Centaur
", it's size XXL. It comes in different sizes, and you can get your very own at
Mrhankeystoys.com
.
I can REALLY recommend it!


slave p.


Don't forget to follow us:


Clips4Sale
LoverFans

Pornhub
Twitter
Tumblr

Instagram