17–03-2019
Testicle Torture Vol. 4

In Vol. 1 my slaves cock cage and barbells were removed leaving his cock and balls completely naked and ready for my sadistic fun.
In Vol. 2 I stretched and pulled his balls as HARD as I could!
In Vol. 3 I crushed his balls making them completely FLAT

And now I am going to stand on them …. full weight - something I had never tried before!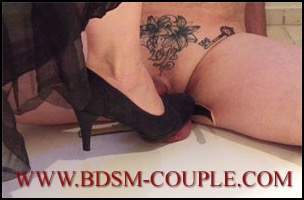 My slave had been so considerate to secure his balls to a board making sure they couldn't move around under my feet or try to escape! It was a very simple device he had made. Just a strap secured to board.
It worked very well, and his balls stayed exactly where they were supposed to stay: Under my feet!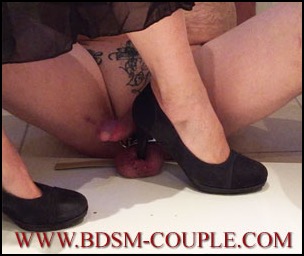 I started out with shoes on and I was very carefull at first - especially when I had his balls under my pointy heel.
I held on to a window so I wouldn't loose my balance and crush his balls completely by accident.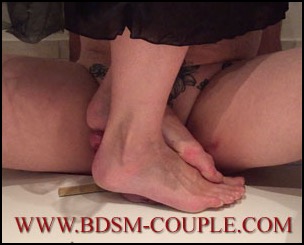 But when I took of my shoes and stood on his balls with my bare feet, I didn't have to be so careful.
I loved how warm and soft the felt under my feet. And I loved the noice my slave made when I stood on them using my entire weight (don't ask about my weight - I'm not going to tell you!) to make them flat! And they did get flat!
Of course I have made a little video for you so you can enjoy watching me take my first steps on my slave´s balls.
As soon as his newest piercings have healed, I'm going to do this again.
I am really looking forward to testing how much his balls can take, and the thought of keep pushing the limit is SO hot!!!
Enjoy the video and watch the full version on my
LoverFans
:-)
After all that hard crushing and twisting I have deserved some relaxation and a glass of champagne in the tub…. served by my slave in a very special way! Have a look at Vol. 5
right here
…


Miss M.


Don't forget to follow us:



Clips4Sale
LoverFans

Pornhub
Twitter

Tumblr
Instagram