27-01-2019
More piercings...

A few days ago Miss M. noticed a little space between some of the piercings in my scrotum… just enough space for two more piercings. I already have 8 piercings in my scrotum (and two in my cock) and Miss M. wasn't sure if two more would be "to much".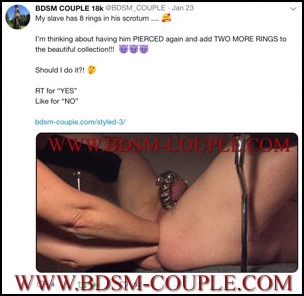 So she asked our followers on Twitter if she should have me pierced again and add two more rings.
It was a very close race: 44 voted "YES" by retweeting and 52 voted "NO" by liking.
But 3 commented the picture and urged Miss M. To have me pierced, and 5 included the tweet in a tweet of their own bringing the number of votes for "YES" up to 52. Just enough to tip the balance.
So in about two weeks Miss M. will have my scrotum pierced…
To be honest I love being pierced. And I love it even more because it's Miss M. who decides the number of piercings and where they should be. It really underlines the fact that I am her slave and personal toy which she can use in every way she wants. Even if it includes having a needle pushed through my scrotum.
As ordered by Miss M. I have made an appointment in about three weeks - and I can hardly wait!!
Watch all the full videos and all the photos on Miss M.'s
LoverFans
:-)
slave p.


Don't forget to follow us:


Clips4Sale
LoverFans
Pornhub
Twitter
Tumblr
Instagram