12-01-2019
New Years fisting!

First of all: Happy New Year! Its been a while since our last post but it's not because we've stopped playing kinky games - we have just been too busy to tell you all about it.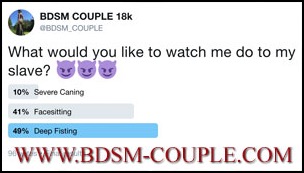 A while back Miss M. Asked our 19k followers on Twitter what they would like the most to see her do to me. The result was pretty clear:
The majority of our followers voted for DEEP FISTING, and DEEP FISTING was exactly what Miss M. chose for our first session in 2019 plus some HUGE toys!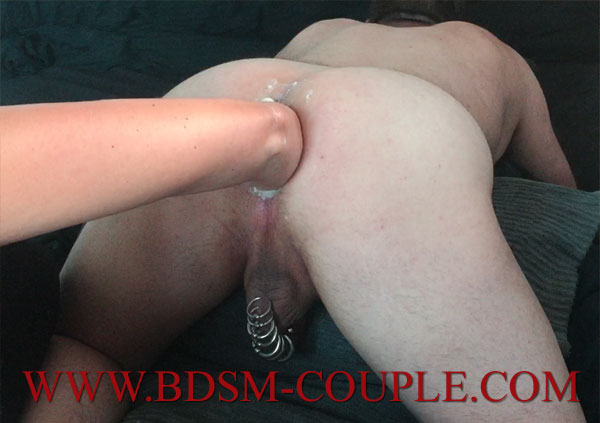 For the first time ever since I became her slave, Miss M. decided to start fisting me without any warm up. And much to my surprise my ass was open and ready from the beginning.
I guess my anal training is really starting to pay off! It didn't take long for Miss M. to go almost elbow deep, and when I started to moan and try to push her arm out, she forced it further inside and kept pushing….. it's painful and intense, but I love it when she does that!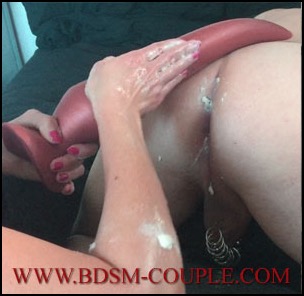 After pushing the limit mercilessly she finally pulled her arm out.
But I didn't get much time to catch my breath before she forced a loooong toy all the way inside!
The way she pushed it inside took me completely by surprise and before I realized what was going on the whole thing had disappeared!
I could feel my intestines getting stretched, and my attempts to push it back out was futile.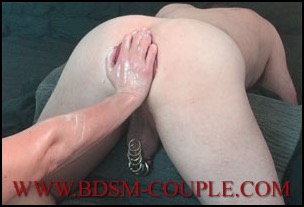 Miss M. had her hand on the base and made sure that it stayed inside.
When I finally thought she was allowing me to get it out, she started fucking me with it.
The feeling each time the widest part of it was pushed inside was intense, and every time I could feel it going
so deep
!
When Miss M. fists me or fucks me deep with huge toys I can really feel, that she is 100 % in control. There is nothing I can do, when she decides keep her arm inside me…..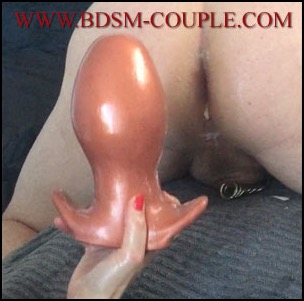 Miss M. had one final surprise for me. A really FAT butt plug, that was so FAT that Miss M. couldn't push it inside.
I had to sit on it and use my entire weight before my sore hole began to give in….
The first time it slipped in, I immediately pushed it back out. But in the second attempt it stayed inside me.
I could tell by the look on her face, that Miss M. loved watching my ass getting stretched to the max - knowing that I had struggled hard to please her….
Enjoy the video of our intense stretching session - and watch the full video on Miss M.'s
LoverFans
:-)
slave p.


Don't forget to follow us:


Clips4Sale
LoverFans
Pornhub
Twitter
Tumblr
Instagram