26-10-2020
Three years of chastity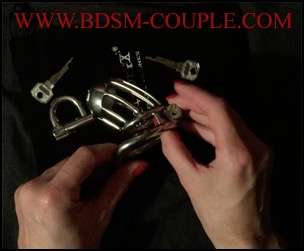 This blog entry marks a mile stone in my relationship and marriage to slave p. Today it's exactly three years since I locked him in chastity for the very first time. And what a journey it has been. You can follow his development right here.

We started out slow and careful, but the Cock Cage very quickly became a vital part of slave p.'s daily life. And the intervals between his orgasms quickly became longer and longer.

I soon realized that I really enjoyed having his cock locked up, and that I really enjoyed the effect of denial on his behavior.
I began to notice that the longer he was locked and denied between orgasms, the better he behaved. The more attention he gave me. And the more focused on my wellbeing and pleasure he became.
As time went by I began to think of never letting him cum again. On 31. December I allowed him to cum and after that he hasn't cum a single time.
That's almost 10 months, and his performance has never been better! In February we got the
custom made Cock Cage
that I believe he shall wear for the rest of his life.
It cost a fortune but it's so beautiful and well worth every penny!
And what is the status after 3 years of wearing a Cock Cage and being denied orgasms? The status is that he has become the slave that I didn't even dare to dream of owning.
So Ladies - read
this
…. and LOCK UP THOSE COCKS! Once you have tried it, you'll never go back to a "normal" relationship!
I know what YOU want to know
: Will I ever allow slave p. to cum again? No…. I don't think so….
Enjoy the short video! As usual all high resolution photos and the full video is on my
LoverFans
.
Miss M.

Don't forget to follow us:



Clips4Sale

LoverFans

Pornhub
Twitter
Tumblr
Instagram