06-10-2020
New rules!

Those of you who read my blog on a regular basis know, that I have a system that includes caning when slave p. makes mistakes and when he is allowed to make me cum. He earns 10 strokes with my heavy cane or my riding crop for every orgasms I allow him to give me and 20 strokes for every mistake he makes.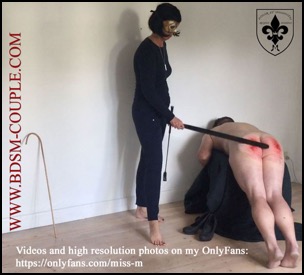 This provides an "excuse" for giving him a harsh caning about once a month. Learn more
right here
…
It's a lot of fun, but why not make it even more interesting? Why not make the consequences of his mistakes even more severe? Yes indeed….
why not
!
A while back slave p. made me a
new toy
. A beautiful black and shiny board with 5 golden nails. The effect is marvelous! Every time I hit him the nails punch 5 holes in his skin …. and blood begins to drip….
And this is my idea: For every mistake slave p. makes he will earn 20 strokes with the nail board. I have already started my new system, and I love it! This first time he had 860 strokes with my cane and riding crop and 60 with the nail board. Yes yes….. it was not just for one month … but I have fallen behind and I am trying to catch up!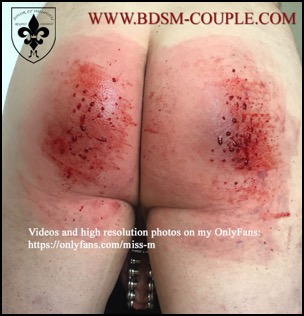 I must say that he has learned how to take a beating. He didn't make a sound except from counting the strokes. And he just stayed in position even though he wasn't tied up. NOW THAT'S DISCIPLINE, Ladies and Gentlemen!
The only problem about the nail board is that it gets so messy with red stains on the walls, the floor and the ceiling. But hey… isn't that the perfect job for slave p. to clean up his own mess?!
Enjoy the short video! As usual all high resolution photos and the full video is on my
LoverFans
.
Miss M.

Don't forget to follow us:


Clips4Sale
LoverFans
Pornhub
Twitter
Tumblr

Instagram