04–12-2020
Deep stretching

Back in November I noticed that the
Slink XL
didn't seem to be much of a challenge to slave p. anymore. So I decided it was time to take a step up.
I promised slave p. to buy the XXL for him if he could make the XL disappear completely inside his ass…. Including the base.
I expected it to take weeks for him to get the last inches inside. But about a week later he sent me a video of the whole thing going inside him.
Amazing….. but of course it doesn't really count until I see it in person ….. and do it to him myself. And so I did.
Yes…. The first part went in very easily.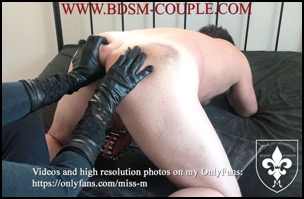 And then I had to push hard to get the base inside as well. But nowhere near as hard as I had expected. And then it was gone…. wow…. all 50 cm of it completely gone…. WOW!
I had promised him the XXL - and he's going to get it. But when I made the promise I didn't know the price of the darn thing.
It pretty expensive, so he's not getting it in 2020. Sometime in the beginning of 2021 he'll get it and until then he'll have to make do with the XL.
But oh boy! I'm looking forward to watching him struggle with the XXL!
Enjoy the short video! As usual all high resolution photos and the full video is on my
LoverFans
.

Miss M.

Don't forget to follow us:



Clips4Sale


LoverFans



Pornhub



Twitter


Tumblr


Instagram