WHAT'S IN IT FOR HIM?!

I have had that question asked many times - and I can understand why!
It sounds rather crazy to willingly turn over the control of your life to another person and have to do as you are told no matter what that person wants. To give up the control of your sex life and literally hand over the
keys to your penis
knowing that you will be denied orgasm for months or even years…..

When put like that it sounds like a really shitty deal! But it has turned out to be quite the opposite. To me it has been a relief to have very clear roles in our marriage. I have accepted that Miss M. always has the final saying and thus we avoid a lot of arguing - and if I do argue or forget to obey, Miss M. uses her cane to remind me who's in charge… and that works. That said she always listens to what I have to say about the matter before she makes her decision.


It takes a lot of love, trust, devotion and respect to make it work - and in our case it works. We both want each other to thrive and be happy and Miss M.'s decisions reflects just that. I don't always agree with her but she exercises her power with care - and that just makes me love her even more and want to pamper her and please her every way possible.

And then there is the sexual part. Oh boy….. SEX! We have never before had so much sex!! I soon discovred that being locked in chastity and being denied orgasm for many months changed my way of thinking of sex and my wife.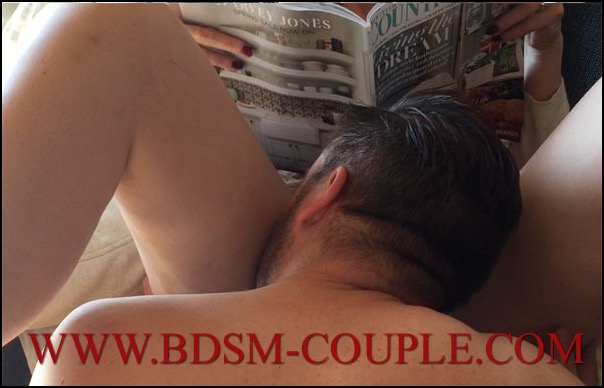 I have always enjoyed making her cum. But after she stopped allowing me to cum I have become addicted to licking her pussy and keeping it smooth… and touching her… and caressing her… and cuddle… and kiss… and I love everything that involves being close to her. I think about her a thousand times a day - and since she holds the key to my cage my sexual focus is 100% towards her and not other women. Besides all that I have found out that I absolutely love feeling horny 24/7!

Do you know the feeling of being madly in love with someone and spending every waking hour thinking about that special person and how to make him or her happy? Then you know how being owned and kept in chastity by my beautiful wife makes me feel. We have been together for many years and I am head over heels in love with her!

I hope that answers the question in the headline and explains why I love being kept in chastity in our Female Led Relationship? Right here Miss M. tells about how she experiences being the Boss.

slave p.


Don't forget to follow us:


OnlyFans


Pornhub


Twitter


Tumblr


Instagram