17-09-2018
Cock and balls torture

Sometimes it's difficult for me to find the time to play with my slave. I like to play for many hours at a time, but due to kids and work we don´t get many opportunities to do so.

Instead I am incorporating BDSM into our everyday life. My slave has his daily tasks to do - and I punish him hard if he fails. And lately I have begun to have short sessions with my slave when the kids are away from the house doing sports and we are alone for an hour or two.

This usually happens once a week, and today I had decided to torture my slave's cock and balls. Well it wasn't all torture and pain. I also did nice things to my slave after tying him to the bed and making sure he was totally helpless and in my power. I caressed his cock and balls…. and I even used my tongue very gently to make sure he was horny and ready for some torture. It wasn't for his sake - I just really like it when he is so horny that he begs for more pain!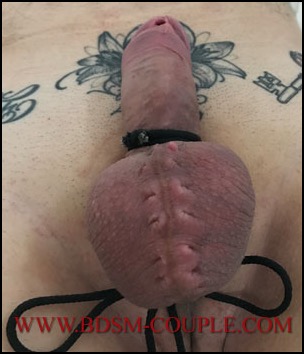 After the vanilla part I started out with some cock slapping. I love the sound of my hand hitting his hard cock and the moans my slave makes when it really hurts! And then it was time to get serious:
After removing his rings to make sure they didn't get in the way, I tied up his cock and balls real tight (I absolutely LOVE purple!). And as his private parts slowly changed color I began working on his balls. I hit them… I squeezed them as hard as I could … and I pulled them while leaning back using all my weight.
The wonderful sound of my screaming slave convinced me that I was doing a really good job!
As you can see in the pics the holes from the large piercing rings I put in his scrotum and his cock are very visible, and he'll have them for the rest of his life.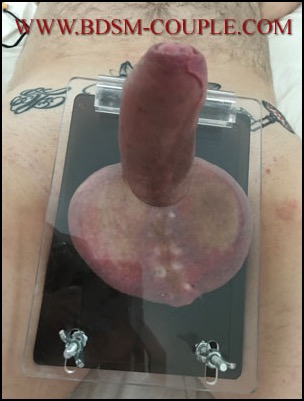 The device in this pic is one of my all time favorites! And when my slave is tied up there is nothing he can do to prevent me from tightening the screws as much as I like.
The clear acrylic plate gives me a wonderful view of his poor balls as the slowly gets crushed, and I can see how the color changes as I tighten the screws. In the center part the skin turns white, and the rest turns dark purple!
His cock sticks out through a hole in the plate allowing me to tease him and keep him on the edge of cumming.
This way he can deal with a great deal of pain allowing me to make his balls completely flat…. it's a game I really like!!!
I got caught op in the torture and forgot to make a video for you. Sorry about that - but I did get a video of me slapping his cock HARD…. enjoy!
Enjoy the video and watch the full version on my
LoverFans
:-)
Miss M.


Don't forget to follow us:


Clips4Sale

LoverFans

Pornhub
Twitter
Tumblr
Instagram