08-08-2018
360 (NOT 382!) strokes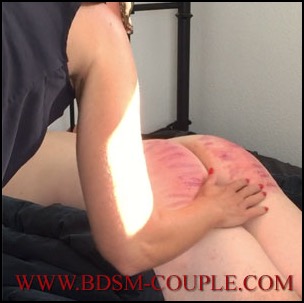 My slave and I have had a marvelous summer holiday!!!
We have been relaxing, sleeping late, drinking, laughing, swimming and making love. Yes you got it right - I allowed my slave a whole week of fucking and cumming inside me, and he really enjoyed that - but don't worry; his cock is now securely locked up again and he's back in chastity.
Another thing my slave apparently enjoyed a whole lot was the relaxing part. In fact he enjoyed it so much that he began to forget his
daily tasks
.
When we went abroad he forgot to bring my hot water bottle. I didn't need it in the tropical heat, but one of his daily tasks is to ask me, if I would like a hot water bottle to keep me warm at night. And since he didn't bring it along, he earned 20 strokes every evening of our journey. We like to have a few drinks when we are on vacation and drinking makes my slave forget his tasks (this is so much fun!). So a lot of nights he forgot to remove the silver key to his cock cage from around my neck. And as the days went by, the number of strokes he earned increased steadily! At the end of July the number of his mistakes was 18 which earned him a stunning 360 strokes with my two favorite canes.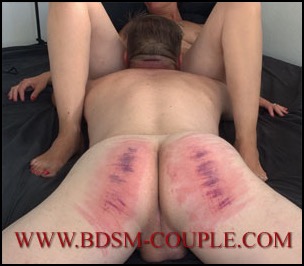 I was really surprised that he suddenly made so many mistakes, but since I love to give him a good (painful!!) thrashing, I was also thrilled! Yesterday I tied him to the bed making sure he was stretched out and unable to wriggle to much. And then my fun began!
360 strokes without any warm up is a lot to cope with. But of course my slave took his punishment like a man. No screaming or yelling… I like that. But his counting was horrible.
Not only did he count waaaaay too many strokes - but he was cheeky enough to laugh and claim I gave him 382 stokes instead of 360. That mistake earned him another 100 strokes next month - and I am sure anyone watching the video will agree, that he only got 360 strokes!!
Making my slave's butt red and purple really turns me on. And is there any better way to end a caning session than by making the slave eat your wet pussy?! I think not…. and he does such a wonderful job with his tongue!!!
The only problem with the great number of strokes was, that I got injured! Afterwards I discovered that the caning had given me a HUGE and PAINFUL blister! That's not right!!! I'll need to come up with a solution to prevent this from happening again. While I think please enjoy the video of my slave receiving his
360 (!) strokes
…
Enjoy the video and watch the full version on my LoverFans :-)

Miss M.


Don't forget to follow us:


Clips4Sale



LoverFans



Pornhub



Twitter



Tumblr


Instagram