13-06-2018
Deep Fisting

We have been through the
severe caning
and the
facesitting
. Here is what the majority of our followers on Twitter asked for: Deep Fisting!!!!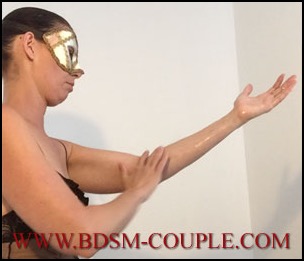 I love it (and I fear it!) when Miss M. forces her hand and arm deep inside inside me.
Once her hand is inside, she is 100 % in controll. There is absolutely nothing I can do make her stop - and I am totally in her power.
It takes a lot of trust to allow another person to go as deep as Miss M. does and she goes a little deeper every time.
Damage to the intestines is serious business, but I am confident that Miss M. is very careful and that she'll not harm me in any way.
Our goal is her entire arm, and I am almost able to take her arm to the elbow - so we still have a long way to go. But that's ok…. we are not in a hurry and getting her arm deeper and deeper inside me as the years go by is a lot of fun and a lot of hard work!

I do my best to practice with huge dildos once a week, but often I am too busy at work, or the kids are in the house. In the video below Miss M. almost penetrates me all the way to her elbow. I hurts inside - and it hurts as the widest part of her arm stretches my anus. As usual she pushed on when I start to protest - going juuuuust a little deeper.
I love it when she does that!!!

Enjoy the video and watch the full version on Miss M.'s LoverFans :-)


slave p.


Don't forget to follow us:


Clips4Sale


LoverFans


Pornhub


Twitter



Tumblr



Instagram