01–04-2018
Female Led Relationship

This post marks a mile stone in our relationship and in our journey into the wonderful world of BDSM. After some years of switching we have made a decision: from now on our relationship will be a Female Led relationship. Its not because switching isn't a lot of fun. It certainly is! But we both find that staying in the same roles makes the game much more interesting - and SEXY!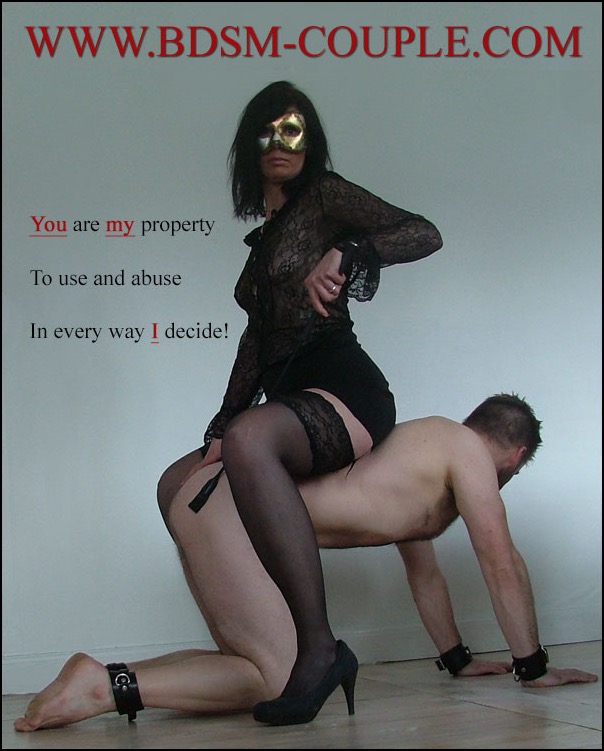 It all started with male chastity. A little experiment that worked SO WELL: my slave had read an article and wanted to find out what alle the fuzz was about. I to read the article and became curious as well, so we bought a stainless steel cock cage and started out with two weeks of chastity and orgasm denial. My slave became so willing to fulfill my every need and after three months it was even better!

Today we had a little chat…. and we (that really means I!) decided to make my status as his Mistress and owner permanent. No more switching. My slave of course agrees that it's a good idea - what else can he do when I hold the key to his cock cage?


I really love to be in charge. To have the right to do whatever I like to my slave whenever I want to do it. Make him wear the special trousers in the picture and make me a Gin & Tonic. Mark his body with a slave tattoo… have his genitale pierced… tell him to wake me up by licking my pussy every morning. What's not to like?! I love the power that allows me to lock up his cock and deny him orgasm for weeks and months - and I love how horny and willing to serve this makes him! I love to crush his balls knowing how painful it is and masturbate him to the edge of orgasm…. and then stop to crus his balls HARD! I have discovered how horny it makes me to hurt him! Naughty me!
Now that I'm
100 percent in controll
I am going to slowly develop our little game into a permanent lifestyle. The male chastity aspect is a vital part of our new lifestyle and I'll not allow him to cum until our summer holiday in july. Well maybe I'll allow him to cum…. only time will tell!
My slave will have things to do every day. For example he'll lock up his cock every morning and hang the silver key around my neck. In the evening he'll remove the silver key from my neck and unlock the cock cage to give me access to play with his cock in bed. Every morning he'll lick my pussy - if I want him to! - and give me as many orgasms that I need before we get up. I'll make a note of his performance in my little black book, and once a month I'll punish him or reward him (I expect to punish him a lot!).
Watch full videos and all photos on my
LoverFans
:-)
Miss M.


Don't forget to follow us:


Clips4Sale

LoverFans
Pornhub

Twitter
Tumblr

Instagram