30-05-2019
Custom made videos!


I love to abuse my slave in so many ways….. and I love making kinky videos showing you all how much pleasure my obedient and willing sex toy brings me!

To add a whole new dimension to my ownership I have decided to fulfill YOUR FANTASIES by making custom videos - thus turning my personal sex slave into a paid porn model and a source of income for me.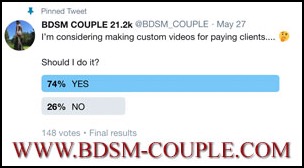 To be honest it really turns me on - and when I asked our followers on Twitter what they thought the vast majority liked the idea.
So here we go!
The concept is VERY simple:
YOU decide what you want to watch me do to my slave - or what kind of solo action you want my slave do. And I make it happen on video for you to enjoy!
He does everything I tell him to since I own him….. and he is happy to do so.
Enough talk -
read all about it right here!
Watch full videos and all photos on my
LoverFans
:-)
Miss M.

Instagram
Don't forget to follow us:


Clips4Sale
LoverFans
Pornhub

Twitter

Tumblr
Instagram