17-02-2019
Testicle Torture Vol. 2


In Vol. 1 my slave's cock cage and piercings was removed leaving his cock and balls completely naked and ready for my sadistic fun!

First on my list was stretching and twisting my slaves balls with a wonderful device he made for me himself. Every time I stretch his balls it surprises me how long they get. I really like that and as time goes by they'll get stretched even more. I am curious about how much more they can get stretched - and I know there's only one way of finding out: keep stretching!

Besides the fact that my slave's balls get stretched I also love the noises he makes when I pull really hard. And I am pulling HARD. I know the pain he feels is extreme, and I'm rather amazed he can stand it. But on the other hand he really hasn't got a choice…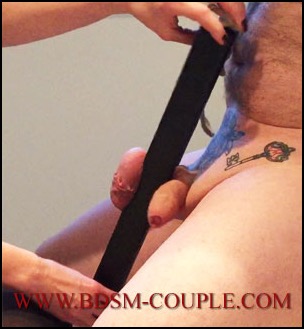 This time I did something I had never done before: I twisted his balls.

I don't know why I haven't thought of doing it a long time ago, and it looked marvelous. His balls had no other choice than to go along as I began spinning the stretcher around. I loved it!

The look on my slave's face was priceless and so was the noises he made…. I love tormenting him knowing I have the power to do what ever I want to him.

Stretching, twisting and hitting his soft defenceless balls is such a turn on!!


Enjoy the video and watch the full version on my
LoverFans
:-)
Stay tuned for some ball crushing in
Vol 3
….


Miss M.


Don't forget to follow us:



Clips4Sale
LoverFans

Pornhub

Twitter
Tumblr

Instagram