04-12-2019
Fucking my Handy Man!

When we are alone in the house, Miss M. wants me to be completely naked. Well… not completely naked, since I always have to wear my Cock Cage…. and on this occasion I also wore my tool belt…. but you get the point!

While I was fixing a few things around the house, I could hear Miss M. do her exercises upstairs. Before she went upstairs she had given me a good caning to keep me motivated - or perhaps just as a warm up - and she had told me, that she had a little surprise for me afterwards.

As I worked I couldn't help but wondering what it might be. Surprises from Miss M. can be very pleasant, and they can be the exact opposite. I never know which it's going to be. So when I heard her steps coming down the stairs I began to worry!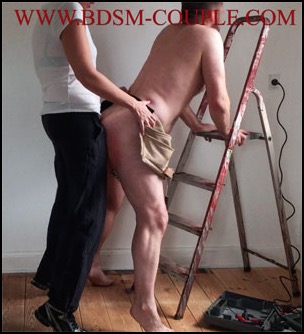 I could hear her enter the room, and suddenly she was standing behind me reaching for my locked cock and balls. After some groping she left…. only to come back shortly after and pull me off the ladder!
As you can see in the video I had a pretty good idea of what was to come next - and I was right! Miss M. had her Feeldoe ready and penetrated me without using any lube! Getting penetrated without any lube hurts, but fortunately I have learned to relax and take it. Otherwise it would be unbearable - but now it's only the first 30 seconds or so that's painful.
And I have figured out why Miss M. doesn't apply any lube. There are two reasons; The first is the obvious, that she doesn't want me to enjoy myself too much. And the second is because of the Feeldoe. The dildo is inside her as well, and without any lube on my end of it, she gets so much more stimulation from fucking me.
With every thrust her G-spot gets stimulated, and when the vibrator is in, she is in heaven! The reason why she stops fucking me is not that she gets tired og think that I've had enough. Nope…. the reason is, that she has CUM! I really like the fact, that she can cum from fucking me in the ass!!! Wow!
And after she had her fun she left…. leaving me to finish my work….
Enjoy the video and watch the full version on Miss M.'s
LoverFans
:-)
slave p.


Don't forget to follow us:


Clips4Sale
LoverFans
Pornhub

Twitter

Tumblr
Instagram