05–08-2019
Pony play

I had never tried pony play or even thought about trying it until a few weeks ago, when I got a request for a Custom Made Video featuring me riding my slave. He should be naked beside leather cuffs and his cock cage, and I should sit on his shoulders while he was on all fours.

The gentleman who wanted the video described in detail what he wanted and I got curious and decided to give it a shot.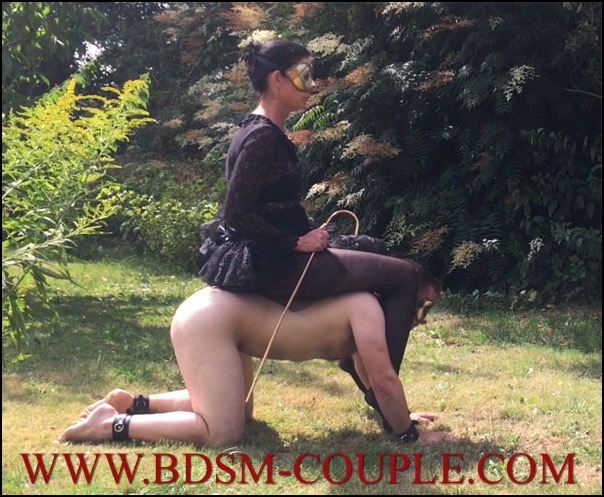 It sounded like a very easy video to make, but it was a lot more difficult than I expected to keep the balance - and my slave was in for a really hard time! The video should last 3 minutes and after 3 minutes my slave was sweating (like a real horse), his breath sounded very similar to an old steam engine, and his arms were shaking! It didn't help that I enjoyed myself so much that I lost track of time and continued riding when the three minutes had past….

A lot of my weight was on the upper part of my slave's body which meant that his arms got very tired, and that he almost collapsed after carrying me for just about four minutes. It was great!
I had used my weight to make my slave work hard while I was relaxing on top of him enjoying how his muscles were working hard beneath me.
When ever he began to slow down I just used my cane to make him go on.
A slight movement with my right hand and the cane would make a beautiful red mark on his butt og thigh!!
Since then I have made one more video of me riding my slave, and this time he lasted almost 6 minutes. My balance has also improved, and once again it was so much fun riding my slave until he was completely exhausted!
To sum it up: I really enjoy riding my slave making him work hard to carry me around - while all I have to do is enjoy the ride and use my cane to keep him going!
Right now I'm thinking of acquiring a saddle so I can sit as comfortable as possible…..
Enjoy the video and watch the full version on my
LoverFans
:-)
Miss M.


Don't forget to follow us:



Clips4Sale

LoverFans

Pornhub

Twitter

Tumblr
Instagram