12-05-2020
Steel ball

I knew about Love-Balls. You know…. cheap toys to insert into the pussy or ass with two or three little balls on a string each with a moving or vibrating core. But the Love-Balls I had seen were way too small to match slave p.'s amazing anal capacity. I bet he wouldn't even notice them if he were to walk around with them inside for an entire day.

But now I know better! There are in fact some
VERY
interesting loveballs in all shapes and sizes out there made by some wonderful and kinky folks in Germany:
biwieshop.de
!
The one I fell in love with was the MONSTER in the photo. It's HUGE and HEAVY - and so is the moving core! Just right for slave p. And it even has a second ball dangling by a chain for all to see and make them wonder what it's attached to inside him!
The total weight of the two steel balls is 712 g - in addition to the 532 g his Cock Cage weights. That's a total of more than 1,2 kg steel attached to his genitals and ass. Mmmm… very HOT!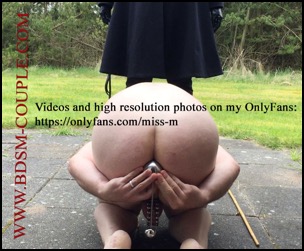 The full effect of the steel balls and the moving cores is best felt when walking or moving around, so I decided to take him for a little walk. I made him insert the steel ball in the cold outside the house to make sure he would hurry - and boy did he struggle, since I hadn't allowed him to stretch his ass before we started. I enjoyed every second of the show while I had my dog leash ready, and I loved the noise he made, when the huge steel ball finally went inside!
The weather was a little colder that I expected - but don't worry: I put on a nice warm coat and and just in case I should need to get warm, I also brought my cane.
While we walked I asked him about what it felt like. Apart from the cold weather he said that it felt great!
The small steel ball dangled and pulled the chain with every step, and the inner core of the large steel ball rolled around and stimulated his as from the inside.
The only thing he worried about was if he would be able to get it out!
After a while I began to feel a little cold but I quickly got warm again from using the cane: 370 strokes in the wildernes did the trick. And while I was caning slave p. I had the most wonderful view to the chain and the little steel ball dangling from his asshole. What a marvelous sight. Especially because I knew what was hidden deep inside him! Mmmm….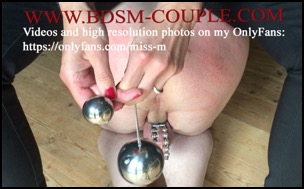 When we got back to the house I told slave p. to leave the steel ball where it was and not remove it before it was time to go to bed….. and then I helped him to remove it by pulling the chain.
I can strongly recommend this marvelous toy, and I'm curious about some of the other steel toys they make! Get your own right here:
biwieshop.de
.
Enjoy the sneak peek - the full video and all the high resolution pics are on my
LoverFans
:
Miss M.

Don't forget to follow us:


Clips4Sale
LoverFans

Pornhub
Twitter

Tumblr
Instagram