STEEL TOYS

Steel is a wonderful material for anal toys. It's heavy and hard…. and you don't have to worry about strange chemicals - if you buy top quality toys!

I'm really beginning to develop a taste for steel toys. They are beautiful and shiny. They don't break and they are so easy to clean!

I have written about some of the steel toys we have had the pleasure of inserting!


LOVEBALL ULTIMATE
The Loveball Ultimate from biwieshop.de is the most extreme Love-Ball I have ever seen! It's made of stainless steel and it's HUGE!
The diameter is 70 mm and from the chain is dangling a 35 mm diameter steel ball. The weight of the two steel balls is a stunning 712 g!
Inside the huge steel ball is a heavy moving core. With every step the core rolls around inside the huge ball - and every step causes a wonderful sensation of stimulation inside the body.
I have tested this toy on slave p. and he loves it!
He says that if he sits still he almost forgets that the steel ball is inside his ass. But the moment he gets up, the small steel ball pulls the chain and he is instantly reminded of the toy! And when he walks around the chain is pulled, and the heavy inner core rolls around.
When I walk next to him, I can in fact hear it make noice inside him!
I am thrilled about this toy and can strongly recommend it - the second ball hanging from the chain is an absolutely brilliant feature! But a word of warning: This HUGE toy is for experts only. Even slave p. struggled to get it inside (
you can watch it right here
).
But despair not; It comes in all sizes including a size that fits YOU!
Get your own right here at
biwieshop.de!
Miss M.

——————————————————————————————————————



The Micro String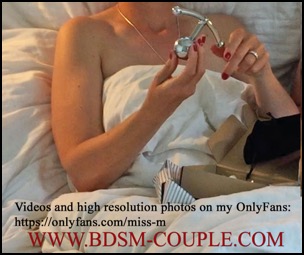 My husband (slave p.) bought The Micro String from
biwieshop.de
for my birthday - and I loved it from first sight! It looks like an anchor, is very beautiful and shiny.
And the ball that goes inside the pussy (or ass) is hollow with a moving inner core (very important!).
Once I had inserted it I immediately felt the steel rod caressing my clitoris, my labia and my ass at the same tie.
And when I got up and moved around the feeling intensified…. and the moving core inside my pussy added to the pleasure!
Jus like the Loveball Ultimate it makes a very distinct sound when you walk around. This only adds to the pleasure knowing that anyone passing by might notice …. and wonder what it might be!
I didn't manage to cum from walking around with the the toy inside.
But my pussy got soaking wet, and slave p. had a very easy job afterwards making me cum in no time.
If you want a naughty prelude to some hot sex and a toy you can use in public, you should try this one! If you prefer anal use it also comes with a shorter steel rod perfect for the ass. I love it!
Get your own right here at
biwieshop.de!

Miss M.

——————————————————————————————————————

Piercing Trailer
This small piece of jewelry is amazing. It is a chain and a small steel ball designed to be worn in a piercing ring. I have attached it to the ring in my clitoris hood, and I can feel it every step I take.
It pulls my ring and stimulates my clitoris in a very gentle and pleasant way. I prefer to wear it with no panties giving it plenty of space to dangle and move around.
I can strongly recommend it if you want to be naughty having your clit caressed without anyone else knows about it… and I need to buy one more as soon as possible!
Get your own right here at
biwieshop.de!
Miss M.

——————————————————————————————————————



Piercing Rings & Weights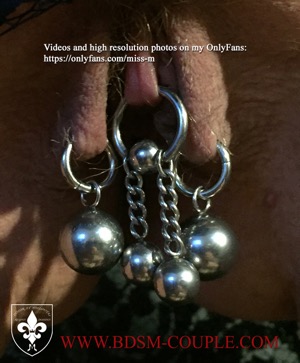 The common BCR-rings for piercings are closed with a little ball. But these are rings designed without the ball - which gives an entire different look and is perfect for attaching little weights for stretching and stimulation.
A small section of the ring can be opened and closed very easily for attaching the little weights. And yet the ring stays closed and doesn't open by accident. A very important feature!
The weights add a whole new dimension to walking around, and just as the Piercing Trailer above, I prefer to use them without wearing panties.
I have been experimenting with the different types of rings and jewellery, and I prefer to wear these rings and the weights in my large labia. The weight just feels wonderful and is such a turn on especially when worn in public…. and when slave p. uses his tongue to play with it!!!
Get your own right here at
biwieshop.de!
Miss M.


Don't forget to follow us:


OnlyFans
Pornhub
Twitter
Tumblr

Instagram