21–03-2020
Nails!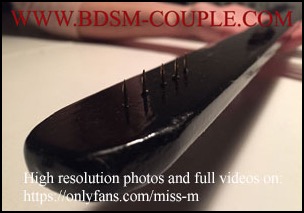 A while back I was joking about how I really needed a board with sharp and pointy nails for spanking slave p.'s bottom. I really just said it to scare him…
But as you may know he likes to make BDSM toys for me - like when he made the most beautiful
Tramplebox
I had ever seen. And about a week after I mentioned it, he presented me with just what I had asked for.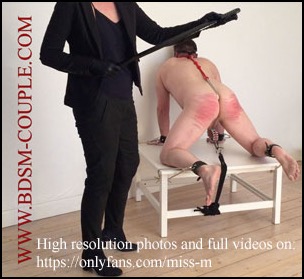 It was black and shiny with 5 sharp and pointy brass nails sticking out. It looked heavy, but it wasn't. And it was perfectly balanced.
To be honest I was a bit concerned about the effect of the nails:
Would it be too much?! Could they do real damage to slave p.?
It took me a few weeks to get around to using it for the first time. And it was wonderful!!
I had been caning slave p. real good and by accident hitting his balls full force with the cane (poor boy - you can watch the video on my
OnlyFans
), when I felt it was time to try out the nails - slave p. was already in agony and it really couldn't get any worse. But as it turned out it went fine!
I didn't hit hard. But the nails penetrated slave p.' sore skin and flesh with ease, just as they should. I was glad to see this, since it meant that he had been doing a good job making the toy for me. Every time I hit him a few seconds went by …. and then five tiny beautiful and ruby red drops of blood formed on his bottom.
I hit him five times on each butt cheek and then I left the room to make myself a drink. When I came back, slave p. was still in position … of course he was… he couldn't move with his hands and feet and balls tied to the table…. and an ass hook attached to his ball gag.
His butt cheeks had turned purple, and the little drops of blood had grown.
I sat down sipping my drink and watched the result of my work, while slave p. was shivering on the table in front of me. Absolutely beautiful! I almost felt like an artist taking a step back to have a good look at a painting which is finally done. Perfect…. but next time I'll add some more ruby red…..
I know you are curious. So I'll show you just a little caning. As usual the full video is on my
OnlyFans
.
Enjoy:

Miss M.


Don't forget to follow us:



OnlyFans


Pornhub


Twitter


Tumblr



Instagram