22-02-2018
Crushing balls - and shopping

It seems like Miss M. really enjoys crushing and hurting my testicles. Despite the intense pain I experience, in some strange and bizarre way it really turns me on knowing that she has the right to do it - and knowing how soaking wet her pussy gets.
My cock gets hard inside the cage from Miss M.'s harsh treatment of the most sensitive part of my body. Since I am not allowed to cum I have come to love every way Miss M. touches my genitals - and this includes the painful crushing of my testicles!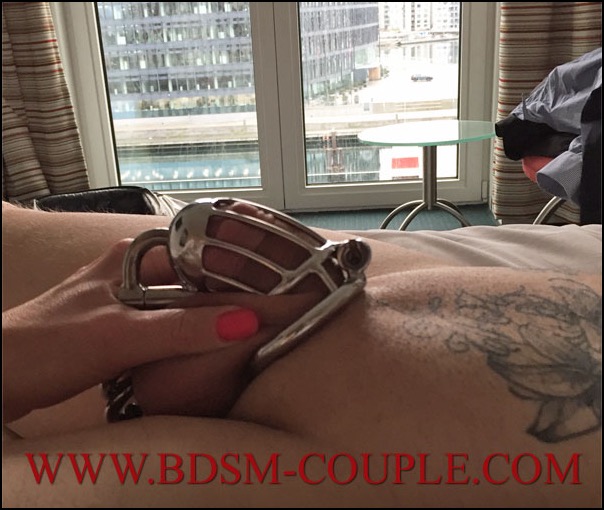 Lately I have noticed an interesting change in the amount of pain I experience when Miss M. is crushing my balls. Miss. M. is without any doubt squeezing much harder than ever before (her fingers and hands get sore!) but it is not as painfull as it was when she first started doing it. Sure I feel the pain al the way from my testicles to my belly but not as intense as I did in the beginning.


I am wondering if it's caused by being denied orgasm for so long and feeling extremely horny all the time or if my testicles are just getting used to being tortured? It may be a combination of the two but I am leaning towards the latter ….
Miss M. has been crushing my right testicle more often then the left one, and I think I have begun to notice a slight difference in the amount of pain I experience. My right testicle does not seem to be as sensitive as the left one anymore. Interesting…
I wonder if I will be ready for Miss M. to stand full weight on my testicles once my piercings have healed completely?
A few days ago I invited Miss M. for a little weekendtrip to go shopping - my job was to:
1. Drive her around in the car we rented at the airport while she drank champagne
2. Tell her how beautiful she looked when she tried on new clothes and shoes
3. Pay
4. Carry her shoppingbags and indulge her in every way possible
We spend hours touring around the shops and I could tell Miss M. enjoyed every minute of it! After dinner we went back to the hotel and relaxed in the tub drinking champagne…. and I was allowed to shave and lick Miss M.'s pussy. I absolutely love doing that! Afterwards we went to bed. Miss M. told me to lick her pussy again and after two more orgasms for my beautiful owner it was testicle-crushing-time!
We have made a short video for you all to see how flat my testicles get when Miss M. has her sadistic fun. Enjoy!
Afterwards we found out that the door to our room had not been completely shut - so everyone walking by in the corridor had been able to hear EVERYTHING. Oh dear….

slave p.

Don't forget to follow us:
Twitter