MY CHASTITY SLAVES


I only have a very limited number of slave cocks locked in chastity - these are the lucky ones I have under lock and key at the moment.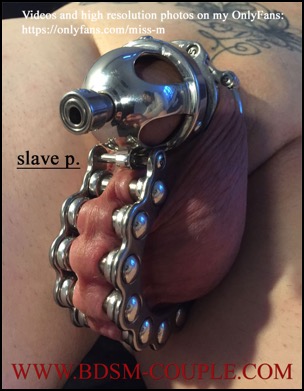 Slave p.
(key held since 26. October 2017)
My lucky husband and obedient House slave. I have him locked for many months at at time.
Or to be more precise: for as long as I feel like!
I starting to think that this means forever: he has now been locked 24/7/365 and 100% denied of orgasms since 31. December 2019. It works very well, so he will remain locked and denied.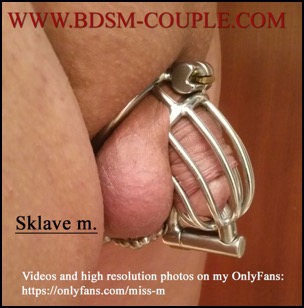 Sklave m.
(Key held since 1. March 2020)
A wounderful and very obedient German slave who really got my attention by agreeing to be locked and denied for 13 months - at least.
Unfortunately I had to unlock Sklave m. due to unforeseen circumstances - but since
24. April 2021
he has been back in the cage for another go at being locked and denied not for the 13 months we aimed for at first but for
at least 16 consecutive months
. I like that spirit!!! And as Neville Camberlain once said: " If at first you don't succeed; try, try, try again!".
You can read a little more about Sklave m.
right here.